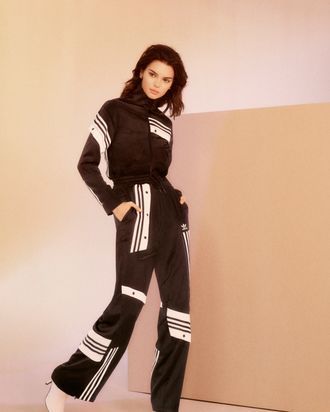 Kendall Jenner wearing Daniëlle Cathari x Adidas.
Photo: Courtesy Adidas
It's Thursday afternoon and Kendall Jenner is sitting cross-legged — yoga-style — on a couch in Soho. She can do this not only because she's flexible, but also because she's wearing an Adidas tracksuit. This isn't your average Adidas tracksuit, though; this is a fashion Adidas tracksuit, which makes sense, because it's the first day of New York Fashion Week.
That's why we're all here: me, Kendall Jenner, who is now an Adidas ambassador, plus the 23-year-old Dutch fashion designer, Daniëlle Cathari, who made Jenner's outfit. Cathari debuted her collection of couture Adidas tracksuits, which she chopped up and quilted back together, last year at the VFiles new designer showcase. This brought Cathari's Instagram profile to the attention of Adidas, who reached out. Rather than send her a cease-and-desist letter for taking a sharp blade to their iconic three-stripes, the brand brought Cathari onboard to make a full capsule collection, which she presented on Thursday. The first drop will be in February, followed by another in April.
Before asking Jenner about her super cool tracksuit, I had to clear something up with Cathari, first: Did Adidas DM her? Yes, Cathari replied with a laugh. Yes, they did. Kids, social media will make all your dreams come true!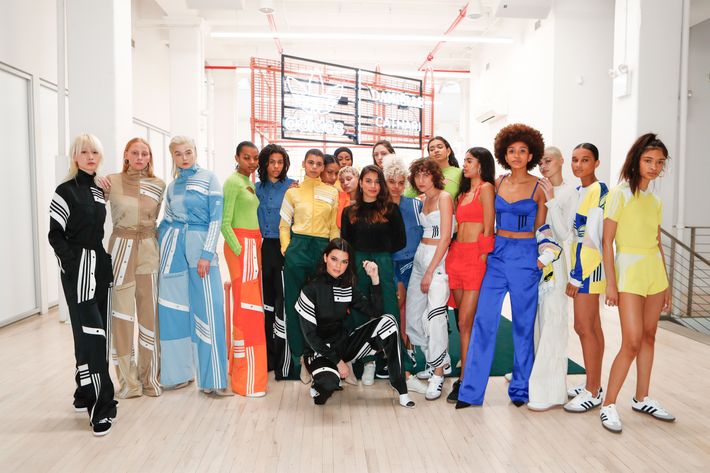 Anyway, Kendall Jenner loves tracksuits. "Tracksuits are very happening right now," she said. Why? Because "Athleisure is what's trendy." Why is athleisure trendy? Because it's "super comfortable." You can also "dress it up and dress it down." It's that easy.
When it comes to cultural Adidas tracksuit moments, (think Run DMC, Ben Stiller in The Royal Tenenbaums, Missy Elliott on the red carpet, etc.), more contemporary icons come to mind for Jenner. "Armie Hammer is killing it right now with his tracksuits," she said. "He really is! He's worn like, every single Adidas tracksuit."
As Vulture chronicled in January, Hammer's Call Me by Your Name press tour outfit of choice seems to be an Adidas tracksuit. Hammer's wife, Elizabeth Chambers, even gave the look a name in an Instagram caption, calling it, "Le Tracksuit."
"He's taking risks," added Jenner, blessing him with her approval. "I saw he wore the Pharrell collaboration — the cream color tracksuit with the polka-dots. I love it."