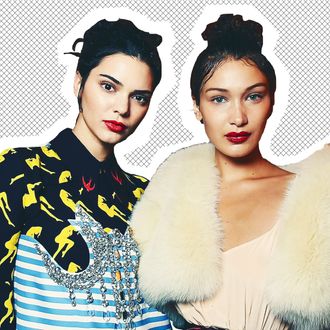 Kendall Jenner and Bella Hadid.
Photo: Getty Images
Animal lovers Bella Hadid and Kendall Jenner are no stranger to controversy — remember that Pepsi ad and the Fyre Festival? — but now, the supermodels have found themselves in a different sort of drama. Yes, they've upset a deer-rescue organization.
As TMZ reports, Jenner recently posted an adorable picture of a fuzzy deer on Instagram — and Hadid reposted the same image on her Instagram story. The picture, it turns out, belongs to the Fuzzy Fawn Wildlife Rescue organization. The owner told TMZ she has no problem with the models sharing the image, but she also said they could have at least tagged the group to help in its mission of rescuing, tagging, and releasing sick deer in Buffalo, New York.
Per TMZ:
Fuzzy says Kendall and Bella could have done her a HUGE solid by exposing their followers to her website and giving animal lovers a chance to donate. The group rehabbed 78 fawns last year at a cost of about $500 each.
However, Hadid's Real Housewife mother Yolanda properly posted and tagged a deer picture last year, so at least there's hope that the supermodels will learn the ins and outs of deer-picture etiquette.