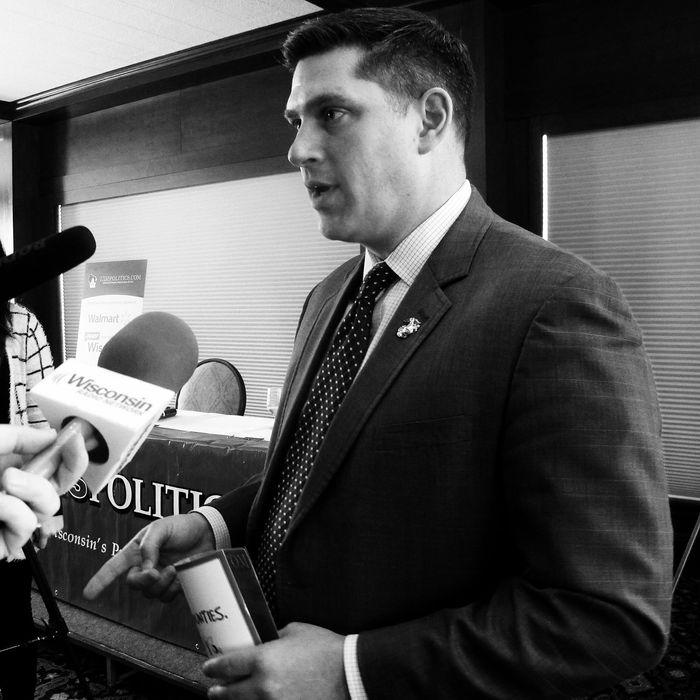 Kevin Nicholson.
Photo: Scott Bauer/AP/REX/Shutterstock
Many of us have family members whose political beliefs, well, don't quite mesh with our own — and we usually just ignore their Facebook posts and chug wine at Thanksgiving to cope. But one set of parents have taken their coping mechanisms a step further: They've donated the maximum possible amount to Wisconsin's incumbent Democratic senator — whom their Republican son is running against.
As CNN reports, Republican Kevin Nicholson announced in July that he would be seeking the GOP Senate nomination in Wisconsin, in an attempt to unseat Democrat Tammy Baldwin (the country's first openly gay senator). Yet a February filing with the Federal Election Commission shows that in December, each of Nicholson's parents, Donna and Michael, donated $2,700 to Baldwin. That amount, it should be noted, is the maximum donation an individual can make to a federal candidate in a primary election.
Nicholson has previously said that he comes from a Democratic family and the Milwaukee Journal-Sentinel reported in November that his mother has previously given thousands of dollars to Democratic organizations and candidates (including Baldwin). Per CNN:
However, the contributions are the first his parents have given to Baldwin since Nicholson announced his candidacy to try to oust the senator. In a statement to CNN, Nicholson said, "My parents have a different worldview than I do, and it is not surprising that they would support a candidate like Tammy Baldwin who shares their perspective."
We can only imagine how awkward the next family gathering will be.