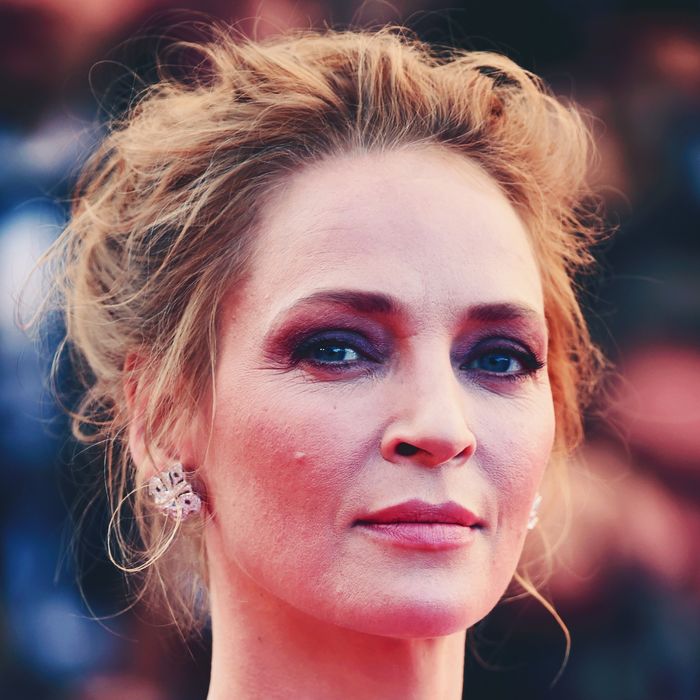 Uma Thurman.
Photo: Ian Gavan/Getty Images
Kill Bill producer Lawrence Bender issued a statement to The Hollywood Reporter on Wednesday in response to claims made by the franchise star Uma Thurman. Though Bender said that he "regretted" that Thurman was injured on set while filming a scene in a moving car, he did not participate in any "cover-up" of the accident.
In an interview in the New York Times over the weekend, Thurman alleged that Harvey Weinstein attacked her multiple times and that while working on Kill Bill (which was financially backed by Weinstein's production company Miramax) director Quentin Tarantino convinced her to film a scene in a moving car without a stunt driver. Thurman believed the car to be unsafe — she described the convertible as a "deathbox" — and that the sand road was not straight, but she claims Tarantino pressured her into driving the car. While filming the scene Thurman lost control of the vehicle and was badly injured. "The steering wheel was at my belly and my legs were jammed under me," she said. "I felt this searing pain and thought, 'Oh my God, I'm never going to walk again.'"
Thurman has alleged that when her lawyer tried to get the footage of the accident, arguing that she should be able to sue for damages, she was denied. It was only a few months ago (over a decade after Kill Bill: Volume 2 was released), when the Weinstein exposés broke, that Tarantino gave Thurman the footage. Since the article came out, Thurman took to her Instagram to post the video, and wrote that she believes Tarantino to be remorseful, but holds "Lawrence Bender, E. Bennett Walsh, and the notorious Harvey Weinstein solely responsible" for the cover-up.
Bender, who also produced Tarantino's Pulp Fiction, Reservoir Dogs, and Inglourious Basterds, told THR, "I deeply regret that Uma suffered the pain she has, both physically and emotionally, for all of these years from the accident that occurred on the set of Kill Bill. The safety of the professionals who work on the movies I produce is vital to me and I never want to let anyone down."
He added, "I never hid anything from Uma or anyone else nor did I participate in any cover-up of any kind — and I never would." He told THR that after learning of Thurman's feelings a few months prior to the interview, he looked into the accident by checking with verifiable sources and passed them on to Tarantino. "I wanted to make sure she had all of the answers she had been seeking," Bender explained. He concluded his statement, "I have great respect for Uma Thurman, both as an artist and a person, and only wish her well."