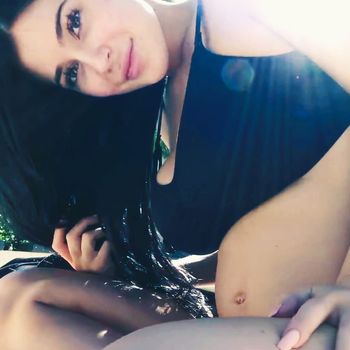 Photo: Courtesy of YouTube/Kylie Jenner
As someone who self-identifies as a know-it-all, and has made a profession of finding the truth in even the smallest bit of detail, I know I'll never be able to replicate the happiness brought on by Kylie Jenner's secrecy about her pregnancy and subsequent reveal of her daughter's February 1 birth. Good luck to my future husband and kids. Good luck to my sisters and parents as they continue to reach personal milestones. Good luck to any of you looking to evoke emotional responses from your loved ones. Because we've seen the best, and she can never be outdone.
Beginning on September 22, 2017 — when news broke that the cosmetics mogul was pregnant (news that she did not confirm) — Kylie stayed mum about her pregnancy. That's five whole months of simple posts about Kylie Cosmetics, low-level magazine covers, and above-the-shoulder selfies, all of which abruptly ended before 2018. Kylie seemed determined to give us zero news about her pregnancy or new life as a young mom.
That all changed yesterday at 4 p.m. ET, with a bombshell social-media post that must have had your Resident-in-Chief shaking with jealousy. Because a stunt like this on Super Bowl Sunday … oh hunny, he could never.
Mere days after becoming a mom, Kylie opened herself up like a 24-hour 7-Eleven, giving us a look at what her life was like during months of gestation. A flood of accompanying social-media posts followed, including a bump photo with her still-pregnant sister Khloé. Just as Khloé explained why she hid her bump pre-announcement, I feel sure Kylie will let us into the process of maintaining a strict vow of silence over these months. Eventually.
All throughout her secret pregnancy, we assumed Kylie was cooped up in Calabasas, lamenting the onset of very-young motherhood (Kylie is 20, but she got pregnant at 19). But she was tricking us, all of us — her fans, her enemies, and the idle purveyors of her life. After giving us so much, she finally had her "gotcha" moment: She shut down our invitation to her life like it was last call and she wanted us to get the fuck out of her bar.
Then, in two poorly formatted and grammatically incorrect paragraphs, Kylie Jenner gave us her heart and her world. She finally let us in, even apologizing for her absence, by linking us to 11 minutes of video. Eleven minutes of my life that I won't ever get back, and I couldn't be more grateful.
"To Our Daughter," the video that moved me to confused tears, is a docu-style montage that resembles an extended cut of a blooming flower video, with glimpses of every moment during Kylie's pregnancy. We heard the story of her taking a pregnancy test and telling her best friend, Jordyn Woods (plus assistant Victoria), the results. There were the sonograms, the In-N-Out burger cravings, the private holiday time with family, even the reveal of Chicago West.
But most beautifully, the video begins with an eager young Khloé watching Kris Jenner give birth to Kylie, and near its end, we see a current-day pregnant Khloé, watching Kylie give birth to her baby girl. Much like Walt Whitman, Kylie Jenner contains multitudes. She did not hold back, unlike her baby's father, Travis Scott, who simply referred to the newborn as a "rager" in his celebratory tweet.
Though she didn't give us her newborn baby girl's name, I remain satisfied.
And this is where I get emotional (and unhinged), and possibly too much in my own mind about all of this, but if not me, who, and if not now, when? Ya feel me? Here we go.
Much like the Wizard in The Wizard of Oz, we sought a heart to find pity on the still-young mom, a brain to comprehend why we thought we deserved to know every detail of Kylie's pregnancy, and the courage to persevere when all of our attempts to find out the truth remained unanswered. We thought we were up against a big bad Wizard shrouded in mystery, not in Oz, but in Calabasas. Oh, how wrong we were.
We collectively assumed Kylie's silence was rooted in shame, in her young age and even-younger relationship with Travis Scott. But shame on us, because reality was far more beautiful. Proving that she's more self-aware of her position in this world, and what her public image means, Kylie took time to focus on her real life. Not the reality that can be picked apart by Kontinuity Errors and endless speculation.
It's not news that Kylie, the youngest of six children, has always wanted to be a mom. Growing up, she had at least five maternal figures (Kris, Kourtney, Kim, Khloé, and Kendall); it's no shock that motherhood would be her ideal. It's what she knows. Like Jordyn says in the video, Kylie's been talking about this moment since she was 15. I'm 26 and I've only wanted to be a mother for one year — Kylie waited five. Maybe I've drank the Calabasas Cool-Aid, but Kylie's journey to motherhood has changed me, and softened my perspective on just who Kylie Jenner is and intends to be. We may get less of the mini-mogul in the future, which might mean a much-needed Life of Kylie cancelation is on the horizon. But I don't care if we see less of Mama Jenner down the line; she's given me enough content to keep me content for at least one calendar year.
See ya in 2019, Kylie.