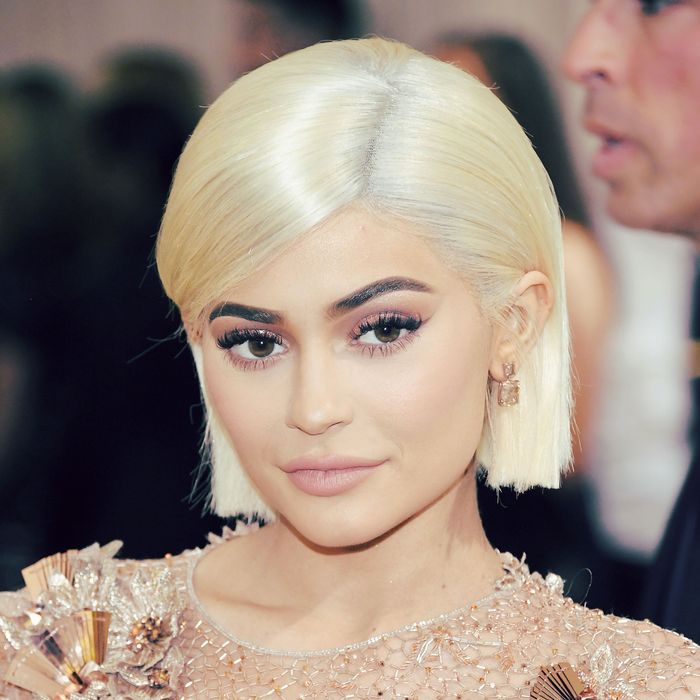 Kylie Jenner.
Photo: Dia Dipasupil / Staff/2017 Getty Images
Just a few short weeks ago, the question on everybody's mind was "What is Kylie Jenner up to?" Now we know that, yes, she was pregnant, and, yes, she turned that pregnancy into inspiration for her latest Kylie Cosmetics drop. The baby's name came first, and inspired the collection of lipsticks, eye shadows, and highlighters.
Jenner said, in her Instagram Stories, "I worked on this pretty much my entire pregnancy. And right after we chose Stormi's name, her name really inspired me."
She had plenty of time to devote to this collection, which is evident in the little details in the packaging. The lightning bolt is a motif through the collection — the "I" in "Kylie" is replaced by one, and bolts are stamped on the lipsticks. The dark, stormy color palette is broken up by pops of bright yellow.
The Weather Collection includes three new matte lipsticks, four glitter eye shadows, an eyeliner, a highlighter, and two new eye palettes. The individual products range from $14 to $44, and the whole thing will set you back $280.
The collection will launch today on the Kylie Cosmetics site at 3 p.m. PT. Look at Stormi, already contributing to the family business.