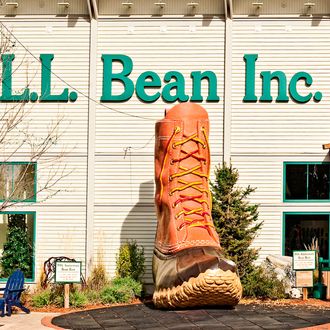 L.L. Bean's flagship store in Freeport, Maine.
Photo: John Greim/LightRocket via Getty Images
On Friday, a dark cloud descended upon New England and wherever else monogrammed backpacks and fleece zip-ups are widely purchased. Maine-based retailer L.L. Bean — which, as you may remember from this boycott explainer, does not stand for Linda Linda Bean — has announced that it is changing its famed lifetime return policy.
Now, per a letter posted on the company's Facebook page, customers will only have a year from purchase to return items. "Increasingly, a small, but growing number of customers has been interpreting our guarantee well beyond its original intent," the company wrote by way of explanation. "Some view it as a lifetime product replacement program, expecting refunds for heavily worn products used over many years. Others seek refunds for products that have been purchased through third parties, such as at yard sales."
People had mixed reactions:
In any case, feel free to pour out a duck boot filled with lobster chowder to mourn the end of an era.