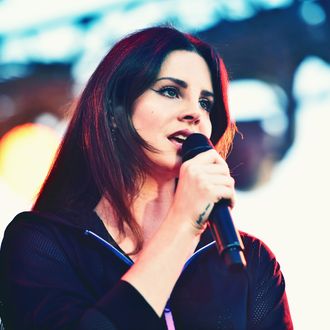 Lana Del Rey.
Photo: Alberto E. Rodriguez/Getty Images for CBS Radio Inc.
On Friday, 43-year-old Michael Shawn Hunt was arrested by Orlando police after they were notified that he was planning to kidnap Lana Del Rey, who was performing at the Amway Arena later that night. In a tweet on Sunday, the singer thanked her fans for their messages of support, and said she was "doing fine."
When he was arrested, Hunt was reportedly carrying a ticket to Lana Del Rey's concert that night, and a 3-inch folding knife. According to the Orlando Sentinel, he is currently facing charges of attempted kidnapping with a weapon, and aggravated stalking with a credible threat.
Police were made aware of Hunt when they received a tip about a series of "cryptic and threatening" posts Hunt had shared on Facebook between January 29 and February 2. The Sentinel reports that in one long, rambling video from January 31, Hunt says:
"I'm going to probably finish out her tour with her, obviously, and dance and talk and figure out what we're going to do. […] Everyone knows that I'm here. Lana knows I'm here. The queen of England knows I'm here. Vladimir knows I'm here. They all know I'm here."
Hunt has served five prior prison sentences for a series of charges including grand theft with a firearm, forgery, and theft of a motor vehicle.