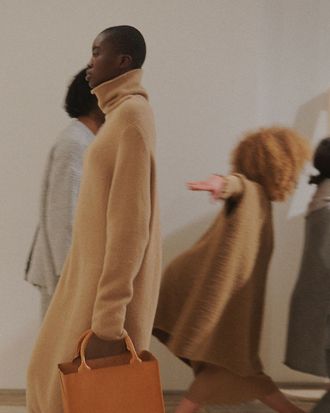 Lauren Manoogian fall 2018.
A stylish yet impeccably comfortable wardrobe is the platonic ideal of chic, as we've learned from minimalist designers like Phoebe Philo of Céline or Mary Kate and Ashley Olsen of The Row. "I am wearing running sneakers and a large cashmere sweater as I type this," the Cut's editor-in-chief Stella Bugbee wrote, explaining Philo's influence on her own clothes. "My hair is tucked, like a mistake, into my turtleneck."
Knitwear designer Lauren Manoogian followed the same aesthetic for her recent New York Fashion Week debut, where models tucked their natural hair into every cozy sweater you'd like to own this winter, all hand-loomed by Manoogian. Designed with her partner in both life and business, Chris Fireoved, the fall 2018 collection's giant knit sweaters, turtlenecks, blazers, coats, scarves, and dresses comprised monochrome looks in various shades of cream, tan, brown, and deep green. Models wore handmade felt shoes that resembled slippers, made in a collaboration with the Australian shoe brand FEIT — another nod to comfort.
As shown in the video above, Manoogian's simple, stripped-down presentation on February 12 used dancing and a soothing instrumental soundtrack to showcase the clothing. Choreographed by Tenaya Kelleher, the models moved slowly and methodically about a white-walled room (their faces free of makeup, hair hardly styled at all) shifting on and off wooden platforms while guests took photos. As performance art, the presentation was meant to explore "human gesture as it responds to a shifting environment," Manoogian said in a press release, and "how we interact with the materials and individuals that surround us."
Fashion month has given us sexy turts, alien makeup, and baby dragons, so far, but with this collection Manoogian provided a nice dose of simplicity — along with inspiration for turning your wardrobe (and life) into a cozy winter sanctuary.