London Fashion Week is known for challenging the status quo. Just last week, Christopher Bailey revealed a rainbow-splashed final Burberry collection dedicated to the LGBTQ community, while designers Vin and Omi took on the environmental impact of fast fashion. The Fashion Spot calls London's runways the second most racially diverse in the world, and designers like Simone Rocha, Gareth Pugh, and Teatum Jones have made waves by using models over 50. (The latter has also cast disabled models in multiple collections.) Others use street casting to find girls who are, in one way or another, unconventional-looking.
But this spirit of risk-taking and inclusiveness only extends about as far as a 25-inch waist. To call New York Fashion Week an inclusive affair would be a stretch, but London makes it look like a body acceptance utopia.
While plus models regularly walk alongside straight size ones at New York shows like Christian Siriano and Chromat, London continues to lag behind. Shows are more likely to feature thin non-models found through street casting than professional plus models who've been honing their skills for years. On occasion, a single plus model will turn up in an indie designer's off-location show — but year after year, the most visible ones actually working during and around LFW are part of statement-making alternative events for specialized retailers like SimplyBe.
"I think it is a shame because London is forward-thinking in so many ways," says Beth Willis, director of curve agency Bridge Models. "We pride ourselves as an inclusive, multicultural city but when it comes to British fashion designers, in particular for LFW, we see the same old beauty standards being rolled out."
Bridge is trying to change that. Formed in 2014 by Willis and Charlotte Griffiths, the company aims to "bridge the gap" between size 0 models and the rest of us. For women, this means starting at a U.K. size 10. (U.K. 8, or U.S. 4, is the upper limit for straight-size agencies; the country's average size is 16.) Currently, the bodacious and outspoken Olivia "Curvy" Campbell is their largest model at a U.K. 22.
"Standard sizes for models are so far removed from the rest of the population," Willis tells the Cut. "Previous to starting Bridge, I'd met models who'd been told by their agencies to stop eating, or to come in and get weighed on a regular basis, and I didn't feel like I could be a part of that — but curve seemed like a really positive side of the industry."
"Curve" is another term for "plus-size," favored in the U.K. and at times the U.S. due to its less stigmatizing, more glamorous-sounding connotations. In case the vocabulary and U.K.-to-U.S. size conversions aren't confusing enough, here's another thing you should know: Not all plus-size models are actually plus-size women. Whereas retailers like Lane Bryant carry U.S. sizes 14 and up for their plus-size customers, when it comes to high-fashion models, plus begins at an 8. Willis wants to fight this seemingly arbitrary distinction.
"There were so many beautiful size 10s falling through the cracks," she says. "I saw this public demand for larger models — ones who wore sizes more people could identify with, so they could see an outfit on the catwalk and think, 'That would look great on me'. If you have boobs or a bum or hips, a very straight up and down model is never going to give you that kind of representation."
One of Willis and Griffiths's earliest signings was Molly Campsie, a statuesque (as of press time) blonde whose career thus far exemplifies what makes Bridge unique. Throughout her time with the agency, Campsie has regularly changed her look, from experimenting with hairstyles to figuring out the best size and weight for her individual body. Willis admits that such changes aren't always convenient, especially if it means having to reshoot someone's entire portfolio, but that healthy, happy talent is worth it. Treating models like products or asking them to remain below a certain weight, as many standard agencies do, simply isn't an option.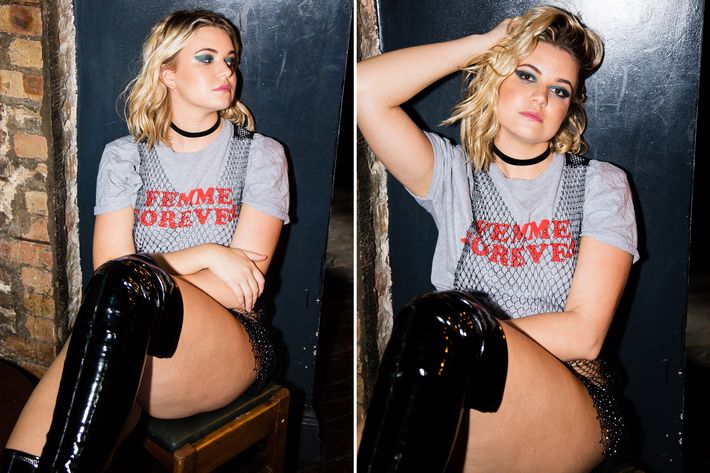 And for the most part, that's worked out smashingly. After growing their initial female talent board, the company added a plus-size men's division — the first in the U.K. — which starts at an XL and has also flourished since debuting in 2017. Their notable successes include Mahalia Handley's appearance in Selfridges' EveryBODY ads and Brett Morse's casting in a not-yet-released Levi's campaign — and since the agency's inception, regular clients like ASOS, New Look, and Dorothy Perkins have all launched extended size departments, too. But there's one significant nut the agency just can't seem to crack: Placing models on the LFW main stage.
"We try reaching out to designers with not much luck," says Willis. "We might get invited to the event instead; particularly if our models are influencers with impressive followings, they'll get press passes to attend. Designers are very happy for the models to blog about it, go and take pictures, that kind of thing — just not for the models to actually be in it. We're all just banging our heads against the wall here."
As Bridge's recently expanded clients have established, though, there's plenty of money to be made in the plus-size market. So why wouldn't high-end designers try to get a piece of it? Well, technically speaking, plus-size clothing can be tricky for heretofore straight-size designers to make. The larger a body, the more variation in its possible shape — i.e. weight that collects around the waist instead of the hips, the arms instead of the bust, and so on — so simply scaling pattern measurements up from a straight-size fit model's proportions typically doesn't pan out.
But considering the multi-billion dollar market waiting to open up at their fingertips, one wonders whether the cost of new patterns is really the primary issue. For all of the enormous way the industry has to go on its inclusion and treatment of people of color, trans, and non-binary people, and people with disabilities, there's something about being plus-size that feels different: namely, that it's antithetical to the virtues of class-sanctioned deprivation held sacred by Capital-F Fashion.
"I was a straight-sized model for years and ended up quitting entirely as I could never keep my weight low enough to please my many agents, even when religiously eating 800 calories a day," says Bridge model Thea Carley. "I feel great now, and the industry is changing slowly. But it's still shitty that I miss out on so much work because I choose to be my optimum weight."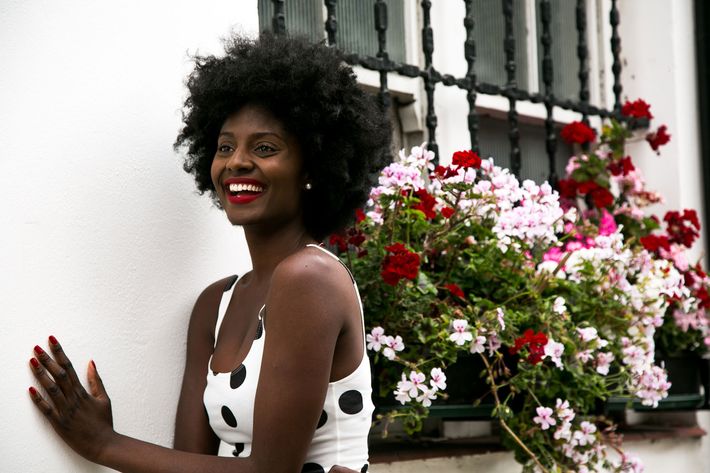 If models aren't outright rejected, they may be padded to create a conventionally desirable hourglass effect — a shape flaunted by tokenized sex symbols like Ashley Graham and Ultimate Apocryphally Plus-Size Body Justifier Marilyn Monroe, and one not linked quite as intimately to the gluttony, sloth, and other vices that Fashion so often associates with plus or "in between" shapes.
"It's like the designers want your face, but on a bigger body," says Bridge's Rachael Williams of the practice. "At the same time, as an in-between size, I'm also told that I'm too big for runway. It mentally affects you to hear that your body isn't acceptable in any way, and that sucks."
Beth, ever the strategist, still sees two possible ways of inching nearer to Fashion's good graces: through educating student designers on making garments for actual plus bodies, and through the increasingly popular U.K. Plus-Size Fashion Week. Now in its fourth year, the event — which will take place in May 2018 — includes both indie lines and popular brands like Evans, Boohoo, and Yours. This time, it'll also feature both women and men, including a few from Bridge,
"Plus-specific events like UKPSFW are important, and as long as there's continued segregation on the straight-size side, it feels crucial to exist and offer that platform," says Willis. "But I look forward to a day when events, and agencies, are no longer segregated."
Another way forward might be legislation. The country's Women's Equality Party has a #NoSizeFitsAll initiative to include models of various sizes across catwalks, ads, and publications. "Agencies, designers, media and the organisers of events like London Fashion Week all have their part to play in protecting models' health and promoting more realistic portrayals of women," a party spokesperson tells the Cut. "If the industry will not get its own house in order, government should step in."
For now, the team at Bridge is trying to do its part, including visiting schools to talk to students about body image and working with various related charities. But whether it takes the government or the fashion industry to make a real change, Willis is confident of one thing.
"Somebody has got to be brave, basically," she says. "Plus models can do all the same high-fashion jobs as straight-size ones, but getting them there will take some powerful people asking themselves serious questions."