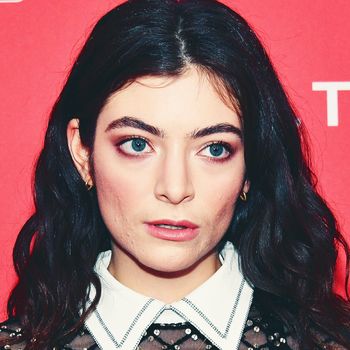 Lorde.
Photo: Dia Dipasupil/Getty Images
Under the glow of her acne therapy light, Lorde explained on Instagram stories how to talk to your friends who struggle with acne. The singer, who has been vocal about her skin issues before, humorously detailed the things people have suggested she try.
"For real though, acne sucks," she said. "You know what also sucks? When you've had acne for years and years and years, done all the drugs, tried all the things, and people are still like, 'You know what worked for me, is moisturizing!'
Also on the list are "Make a mask out of honey, greek yogurt, and avocado!," "All you need to do is buy an apricot scrub!" (but please don't), and "Coconut oil, the secret is coconut oil!" The worst, in Lorde's opinion, is assuming the person is dirty and suggesting they wash their face. That's just rude, come on.
If you are lucky enough to not deal with a chronic skin conditions, now you have some helpful hints. If you, like Lorde, have struggled with your skin, she has a positive message:
"For everyone out there who's got bad skin — and actual bad skin, not just the kind of bad skin you can just use a fancy cream for a few days and it'll all get better — I feel your pain. We'll get there, we will, I promise."