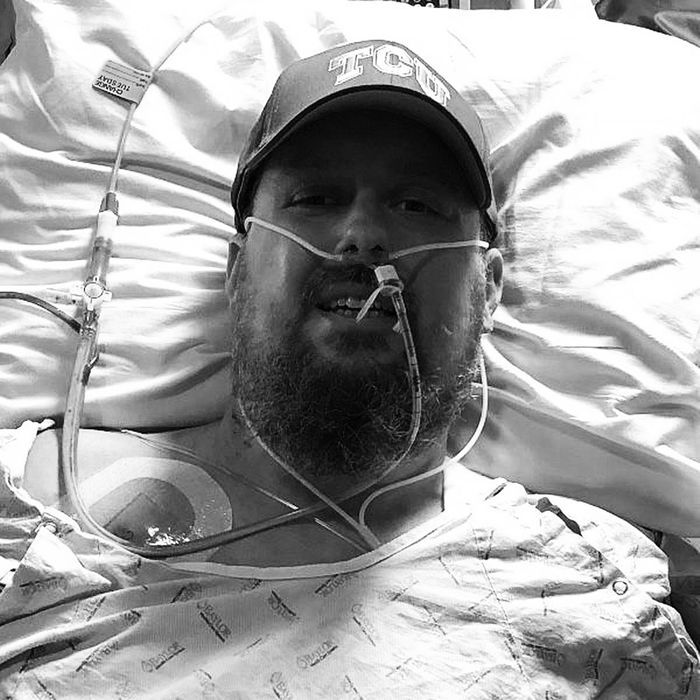 Brian Herndon.
Photo: Courtesy of GoFundMe
This year's flu season has been particularly dangerous, with higher infection rates than we've seen in years. Aside from the tragic deaths associated with this year's strain, one Texas man's flu infection has led to particularly disturbing complications — including the amputation of both of his feet and nine fingers.
As NBC-DFW reports, Brian Herndon was diagnosed with the flu on January 4, and had to be admitted to a Fort Worth hospital the following day for pneumonia. His wife, Jaye, told KHOU that Herndon didn't have any underlying medical conditions that would make him more susceptible to flu symptoms. "He had a 104.7 temperature right away," she said. "And then he had trouble breathing. We didn't wait, we went to the ER. It was that quick."
Shortly after arriving at the hospital, Herndon went into septic shock. On January 6, he was admitted to Baylor Hospital in Dallas, and has been in and out of consciousness since then. According to KHOU, the effects of Herndon's septic shock caused blood clots in his extremities. As a result, his lower legs had to be amputated right above his ankle, and his wife says he will likely lose most of his fingers as well.
The father-of-two spoke with the news outlet via Skype on Sunday, saying "one minute you've got the flu and the next minute you're septic." And on a GoFundMe page seeking to raise funds to cover his medical costs, Jaye wrote, "Brian will need prosthetics for both feet and special hand work as parts of every finger have been amputated. While this is a challenging complication, we can do this together."
It's worth noting that Herndon didn't have his flu shot this year, per his wife, and he wasn't able to start Tamiflu treatment before having to be rushed to the hospital. People points out sepsis (which can cause inflammation that leads to massive organ failure) occurs when "the immune system stops fighting the ['invader' germs] and begins to turn on itself."
According to the Sepsis Alliance, researchers aren't sure why sepsis occurs, and 40 percent of patients diagnosed with severe sepsis die. "Some people are at higher risk of developing sepsis because they are at higher risk of contracting an infection," the organization states. "These include the very young, the very old, those with chronic illnesses, and those with a weakened or impaired immune system."