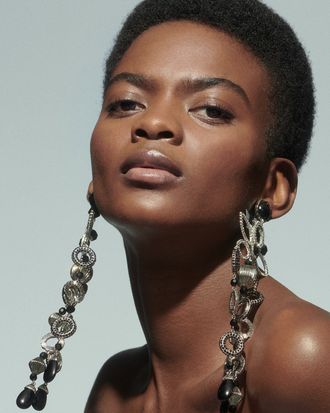 Photo: courtesy of Marc Jacobs Beauty
Marc Jacobs is making the beauty world more diverse, thanks to his new 29-shade Shameless foundation line. Marc Jacobs Beauty's newest launch is inspired by Jacobs's shameless attitude and one of his plentiful tattoos.
The collection is a follow-up to the brand's Remarcable foundation line. In 2015, the brand came under fire for the line, which though it featured 22 shades, had only three that could be used on darker skin. But the Shameless foundation has 29 shades spread all across the color spectrum, to match a wider range of skin tones. The accompanying ad campaign is just as exciting and inclusive — the striking images feature beautifully diverse models, each with their own style and personality. Charlotte Wales shot the campaign, with Katie Grand styling, Rubi Jones on hair, and Hung Vanngo as the makeup artist.
The brand says it took two years to develop the new product's formulation. It contains skin-protecting SPF 25 that's encapsulated so it purportedly won't leave a gray or whitish cast on the skin. It's also oil-free, containing allegedly plumping and hydrating ingredients like snow mushroom and blue daisy extract. The foundation is designed to provide medium coverage that can be sheered out for a more natural finish, or built up to a full-coverage look to last 24 hours.
The Shameless foundations and the Seamless brush, meant to give an airbrushed finish, are available online now and hit stores tomorrow. Take a look at the ads below.