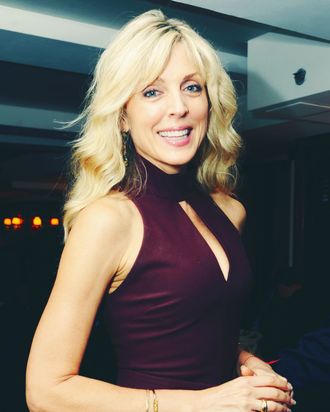 Marla Maples.
Photo: Rabbani and Solimene Photography/Getty Images for Dujour
While the New York Post once ran a story about Marla Maples's sexual chemistry with Donald Trump under the front-page headline, "The Best Sex I Ever Had," Trump's ex-wife has since been relatively quiet about that bold statement. When questioned about its veracity by "Page Six," Maples reportedly said, with a wink, "The truth will come out, just not here."
"Page Six" caught Maples yesterday on the way to jury duty in Manhattan, a responsibility that she described as "so important." The press was more interested in getting a statement from her about that infamous 1990 headline, though, to which she coyly replied.
"I never said that, someone else said that," she said. "[But] is it true? I'm not going to talk about that. The truth will come out, just not here." She then reportedly winked at a nearby Post reporter.
Given Maples's refusal to confirm and adult-film star Stormy Daniels's description of sex with Trump as "textbook generic," it appears the truth that's slowly coming out won't reflect so well on Trump's performance between the sheets.