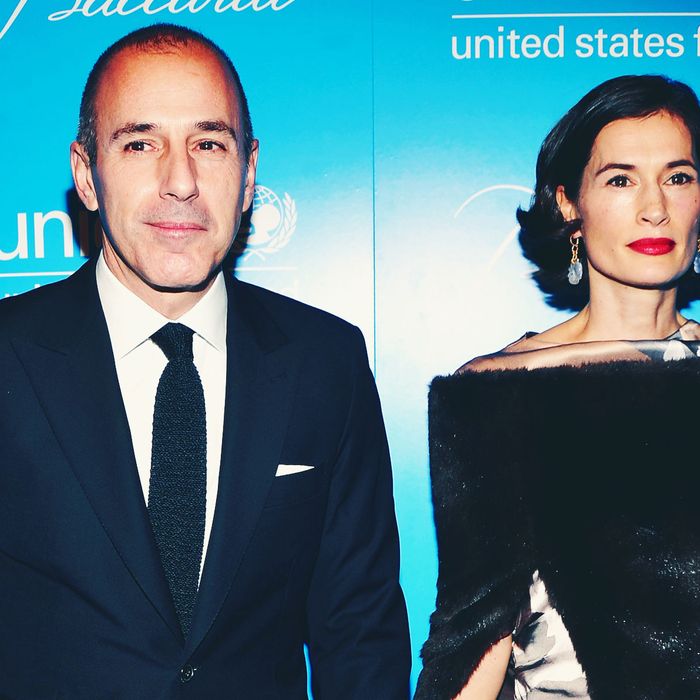 Matt Lauer and Annette Roque.
Photo: Stephen Lovekin/Getty Images
Perhaps to distance herself from her scandalized husband, Annette Roque jetted to Amsterdam, where "Page Six" has spotted her merrily drinking wine with a friend at a Michelin-starred Rijks brasserie — without her wedding ring. Matt Lauer, meanwhile, is nowhere to be seen.
According to earlier reporting by "Page Six," divorce is "imminent" for Roque and Lauer, the latter of whom was fired from NBC for sexual harassment last November. Just a few weeks ago, Roque reportedly kicked Lauer out of their Hamptons estate — not their only Long Island home — and both have since flown under the radar. According to new reporting by "Page Six," though, Roque seems to be doing just fine in Amsterdam, where she's reportedly "enjoying the European life."
"She was having lunch with a girlfriend," a witness said. "They were drinking red wine, and Annette did not have her wedding ring on. She was laughing through the whole lunch."
Lauer, on the other hand, is probably still hiding in one of the Long Island homes he wasn't kicked out of, firing off unsolicited feedback to Today producers.