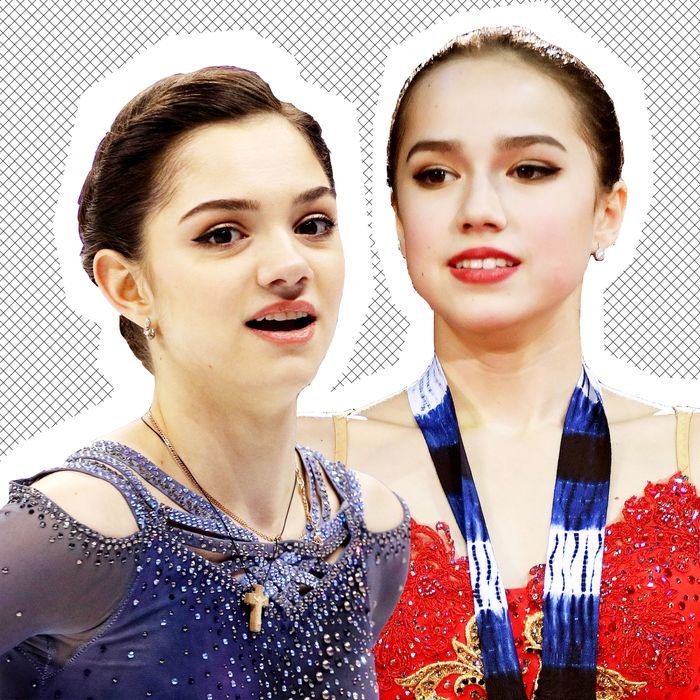 Evgenia Medvedeva and Alina Zagitova.
Photo: Getty Images
The figure skating at the 2018 winter Olympics has already given us so much to be thankful for: Adam Rippon's eyebrows, a historic triple axel, a nightmare wardrobe malfunction, and enough raw sexual chemistry to power a small Canadian village — to name just a few of its many gifts. But for those of us who watch the Olympics because we are messy bitches who live for figure-skating drama, tonight is the night that simply cannot be missed.
Tonight is the women's solo figure skating event, and the clear front-runners are two tiny, beautiful Russian dolls plucked straight from a Darren Aronofsky casting call: 18-year-old two-time world champion Evgenia Medvedeva and 15-year-old European champion Alina Zagitova. (To put it in perspective, American Mirai Nagasu, who performed said historic triple axel, isn't even in medal contention).
They are the two best figure skaters in the world, they train together under the same coach, and they are competing in a neck-in-neck race for gold. Their coach is Eteri Tutberidze, a terrifying woman who seems to enjoy pitting the pair against each other, saying things like: "I can sometimes show Zhenya [Evgenia] and say, 'look, how Alina is working,' and I tell Alina, 'look, how Zhenya is working.'"
While Medvedeva has long been the favorite for gold, the younger Zagitova — who only recently graduated from the junior to senior level — just unseated her training partner at the European Championship, with a flawless and extremely technical program that back-loaded all her jumps in the second half of her skate. (Medvedeva was also recovering from a foot injury at the time, though she claims to be fully recovered now). Jumps taking place in the second half earn extra points for difficulty, yet some people have criticized Zagitova for having an "unbalanced" program. As U.S. figure skater Ashley Wagner tweeted recently: "It's not a program. She killed time in the beginning and then just jumped the second half. It's not a performance."
As Willa Paskin wrote in Slate, the contest between them hinges on a well-worn Olympic narrative: that in which "a seasoned and soulful performer is usurped by a younger, less artful but more athletic one." While Medvedeva tends to score higher on artistry for her inventive and soulful routines — her previous Olympic routine was on the wonderfully Chekhovian theme of "clinical death" — Zagitova has the technical edge. But it's really close! Sports Illustrated predicted Zagitova would win gold and Medvedeva would get silver; International Figure Skating magazine predicted the inverse.
So, which of these terrifyingly perfect miniature ice ballerinas should you root for: Zag or Med? Based on my cursory social media exploration, Medvedeva seems like the "fun one" of the pair. She enjoys dancing in public and playing with her dog. She also loves anime and k-pop and once did a routine to Sailor Moon.
Zagitova doesn't use Instagram as much, so I'm kind of guessing here, but let's go ahead and say she's the "serious" one. She has said in interviews that she doesn't have many friends and that figure skating can be "lonely." She also has a pet chinchilla and enjoys drawing and 'rhinestoning,' because, remember, she is a 15-year-old girl.
While the two are reportedly friends off the ice, Johnny Weir and Tara Lipinski have been gleefully milking the rivalry in their commentary. For example, when the pair hugged after Zagitova's free skate and commentator Terry Gannon commented that there appeared to be some "sincerity" there, Weir responded snarkily that skaters are "good actresses." Here is a photo of them acting friendly, or maybe just being friendly:
Which of these flawless, quadruple-jumping swan princesses will be crowned the best figure-skater in the world? Find out, as always, tonight on NBC. I love the Olympics!