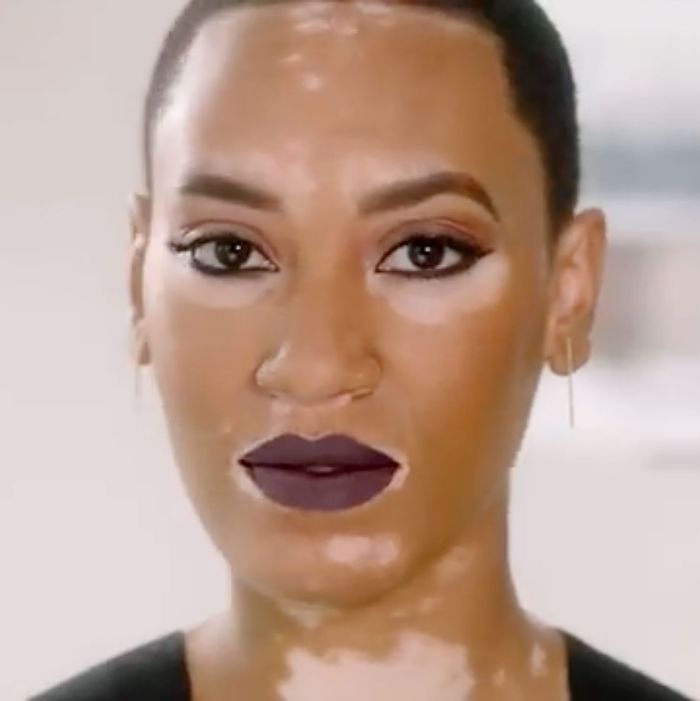 Amy Deanna.
Photo: Courtesy of Covergirl
CoverGirl's newest model defying beauty standards is Amy Deanna. Deanna has vitiligo, a skin condition that causes the loss of melanin, a pigment which gives skin its color. As part of the brand's new I Am What I Make Up campaign, Deanna appears in a new ad for truBlend Foundation. Foundation is normally thought of as a product to help refine skin, even tone, or even balance inconsistencies, but in the ad, Deanna uses the tool to enhance her skin's natural pigmentation.
"Why trend to blend in, when you can choose how to stand out?" questions Deanna in the ad. She told PeopleStyle, "Vitiligo awareness is something that is very important to me. Being given a platform to do so means so much. I welcome all appropriate questions about vitiligo. At the end of the day I am just like everyone else, I just happen to have spots. It's a part of my identity, but it doesn't define who I am … I work with CoverGirl; I'm a black woman; I have vitiligo. That is empowering."
Although Deanna is one of the first beauty models with vitiligo, she's not the first in the fashion industry. Last year, Marc Jacobs featured a model with the same skin condition in its ads. Canadian model Winnie Harlow also has modeled for Diesel, L'Oréal Paris, i-D, and Dazed. Here's to continued inclusivity that even goes beyond 40 shades, in all forms.