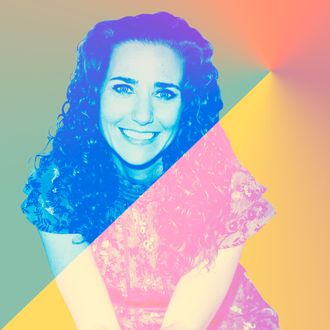 Photo-Illustration: Stevie Remsberg
The Beauty of It All: Questions for the brains behind the beauty industry.
Does the world need another makeup line? It's a question frequently tossed about within the beauty industry, but Lisa Sugar firmly believes in the affirmative, and she's got a focus group of 400 million to back her up.
Sugar is the founder and president of POPSUGAR, and next month, she and her team are launching — you guessed it — a makeup line. Beauty by POPSUGAR is a collection of 18 products, each created to provide what her largely millennial audience felt was lacking in the category.
"We asked them what was missing from their own makeup, what's important to them, and what products they'd like to see," explains Sugar. "Their input is truly unique, and to tap into their specifics has enabled us to add new products that we know will be popular."
Lisa Sugar didn't start out wanting to create cosmetics, nor did she have lofty ambitions to build the No. 1 lifestyle media brand. The then-29-year-old, who'd recently moved from New York to San Francisco, merely wanted to discipline herself into a habit of daily writing. And so, after spending her days as a media planner at Goodby Silverstein & Partners advertising agency, she'd head home and write posts about what she knew and loved.
"All of the celebrity-driven sites were either snarky and nasty or really boring and sterile, so I just started writing about it in my voice," she recalls. "I kept it to myself for a while; I didn't even tell my friends, but it just kind of exploded."
By November, her husband, who'd been in tech for years, told her he'd never seen the kind of growth her little blog was having.
"He said, 'Quit your job and just keep writing and growing that audience.' Within a year, we had a million followers."
By then, her husband had quit his own job and joined her as CEO, and POPSUGAR was born. Readers came to the site for its entertainment and fashion news, as well as beauty and health tips and discoveries, all written in a tone guided by what she calls the POPSUGAR Principles.
"We teach our writers to be more clever than salacious," she explains. "It doesn't mean we can't write a critical review, but I always tell our writers to imagine themselves as judges on a reality show and if a celebrity were there, would they feel comfortable saying [what they want to write] to his or her face? If not, it probably doesn't need to be said."
This isn't the first time the site has offered beauty products to its readers — they've had their Must Have Boxes, curated by Sugar, for five years — but it is their first foray into licensing.
"Our audience has always been very vocal. Listening to them, it was clear how much they love beauty," says Sugar. "To me, beauty was a no-brainer first category to try."
And so began the 18-month process of creating makeup that was easily buildable, easily tote-able and free of nasty ingredients but loaded with healthy ones, like kukui oil and blueberry extracts.
If only her diet was as salubrious as those products.
"I eat candy every day," admits Sugar, who manages her sweet tooth with a two-mile commute to the office and regular SoulCycle classes. "My favorites are those candy cigarettes that taste like chalk, straight-up cotton candy and $100,000 Bars and Twix. I know, the worst kinds of chocolate."
There's more.
"And Magnolia Bakery cupcakes. Just the frosting, though. I don't really care about the cake. I pretend I'm buying them for my daughter, but I'm really not."
Sugar took a break from Beauty by POPSUGAR's impending debut to speak with the Cut about her favorite TV shows, Instagram fonts, and giving in to the allure of the backpack.
What do you cleanse with?
Joanna Vargas Vitamin C Face Wash.
Pen of choice?
Paper Mate blue Flair felt-tip pen.
What do you carry everything around in?
I have finally given in to an Everlane backpack. When I come to New York, I still carry a bag, though. And I'm a bag-in-bag girl, with something like a cute Chanel wallet inside a bigger bag.
Who cuts your hair?
Raphael Garcia from John Sahag. I've been going to him since 1999.
Shoe of choice:
Such a hard question! I'd narrow it down to Adidas Adilette Slides (in original royal blue), the Saint Laurent Bicolor Loafer, or Anya Hindmarch's Wink Smiley sneaker, depending on my mood.
Jeans of choice:
Rag & Bone skinny capri or Everlane Mid-Rise Skinny in dark wash.
What phrase or word are you known for saying?
"Work hard, play nice."
What drives you crazy?
Cracking knuckles and repetitive tapping noises.
Most challenging part of your job?
Probably knowing the right time to pass stuff off to someone else or to step in.
Favorite font:
It's between Instagram Story's Neon and Typewriter.
What is a lost art?
Anything handwritten.
What is always on your desk?
Pictures of my family, lip balm, Post-It notes, and those Paper Mate pens.
What is always in your fridge?
Lemons. Always lemons.
What should Pantone's color of 2018 have been?
I'm obsessed with so many shades of blue, but we redesigned our logo in Yves Klein Blue two years ago and I would be happy if that was the Pantone color every year. It's all over our office walls, our logo, and the artwork in my house.
What song is currently in your head right now?
"Wolves" by Selena Gomez and Marshmello.
What are you working on mastering?
Patience.
What do you splurge on?
Candy, bags, and shoes.
Preoccupation?
My children.
What technology or app do you rely on most? Gmail.
Favorite Instagram?
@flourshop. Rainbows and sweets are a dream come true.
Recent TV binge?
We just cranked through Netflix's The End of the F***ing World. I love a 20-minute show. I feel so accomplished when I can finish a season so quickly, because it's rare for us to do. I've also been patiently waiting for UnReal to come back, which happens at the end of this month! I can't handle reality TV. It's my least favorite genre, but something about the well-written, excellent acting in this scripted show about fake reality dating is so entertaining. I can't get enough of this one.
What or who makes you laugh?
My husband. He's the best storyteller.
Favorite meal and where?
Houston's (Hillstone's, whatever you want to call it) spinach artichoke dip and either their French dip sandwich or Osaka-style spicy tuna roll.
What do you foresee as the top beauty trends in 2018?
In-and-out limited-edition products created for users' social feeds. They'll be extremely photo-friendly, but not as practical. They'll be playful and bold, and the color range will be beyond our wildest dreams!;
What do you wish you had invented?
Google.
If you won the Power Ball tomorrow (after, of course, donating the majority of it to your top charities), what are the first five things you would do?
Share the money with my most loyal friends and pay back my parents for everything they covered; launch an epic candy brand; travel to ten places I've never been before, and buy my favorite movie theater in my neighborhood.