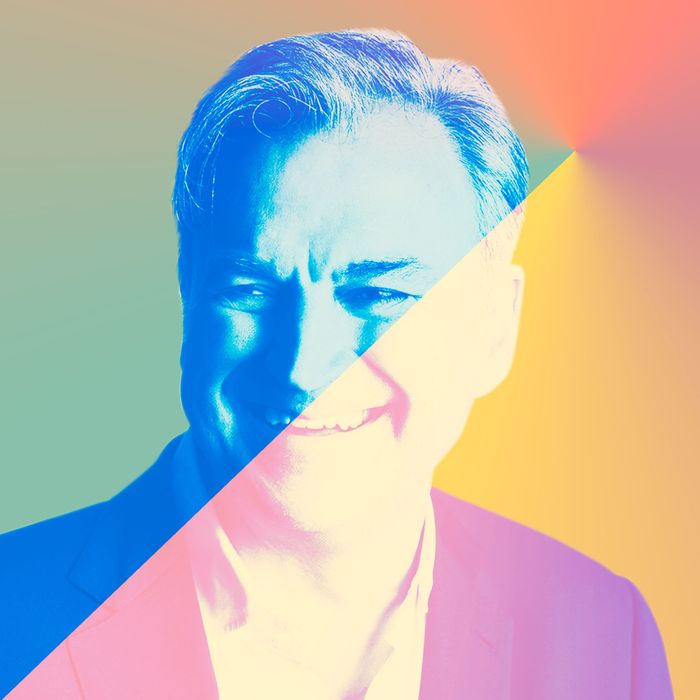 Photo-Illustration: Stevie Remsberg
The Beauty of It All: Questions for the brains behind the beauty industry.
Spend an afternoon with Marc Rey and omotenashi will likely come up. The Japanese word loosely translates to putting the customer's needs first and it is the guiding principle of Shiseido, where Rey is president and CEO of its Americas division.
While he might be far from fluent in the language, Rey has nevertheless immersed himself in omotenashi, conducting his business with the Japanese concept in mind as he oversees a vast stable of beauty brands, including Nars, bareMinerals, Laura Mercier, Clé de Peau and the venerable 146-year-old Shiseido.
The early side of Rey's career included international stints at Dannon, Johnson & Johnson, and Neutrogena, as well as consulting at McKinsey. He moved from Paris to New York in 2007 to lead YSL Beauté at L'Oréal, eventually becoming president of L'Oréal's International Designer Collection. He then moved on to Coty USA, where he was also president before joining Shiseido.
Rey is a charismatic Frenchman who charms with his candor and quick and unique sense of humor. (Case in point: his ringtone is Depeche Mode's "Enjoy the Silence.") It's his business acumen, however, that sealed his reputation for both reigniting fledgling brands as well as zeroing in on the next big things. In the short two-and-a-half years since he took the helm at Shiseido Americas, the brand's acquisition of AI tech start-up Giaran, personalization company MATCHCo, and creative agency JWALK has caused the industry to take notice.
"It is the most exciting time for the beauty industry," says Rey.  "[The definition of] beauty is being reinvented as we speak."
The author of three novels, penned under the nom de plume Guilhem Rey (now you know), he spends his non-writing off-hours cooking, playing tennis, and skiing.
He was actually packing up his skis for an upcoming trip to Sapporo, Japan, when he took a break to speak with the Cut about his passion for literature, comfortable shoes, and the cologne that turns him into a teenager.
What scent do you wear?
I alternate between Terre d'Hermès, Dolce & Gabbana The One, YSL Kouros, and Jaipur Homme de Boucheron.
What phrase or word are you known for saying?
"I need a sabbatical."
What song is currently in your head, and are you happy about it?
"Trenchtown Rock" by Bob Marley and yes, very happy about it.
Preferred font?
Times New Roman 12. It's the font I use when writing my novels.
Lunch spot of choice?
Upland.
What is a lost art?
Real literature.
What are you working on mastering?
Patience. Apparently it's not working, according to my wife, my kids, and my Shiseido team.
Coffee order and coffee place?
Espresso. At home. Doesn't help with the patience problem, though.
What drives you crazy?
Fine Young Cannibals.
Shoe of choice?
Havaianas on the beach. Otherwise, Berluti.
Jeans of choice?
Levi's. My first jeans were 501s, which I spent all my money on. When I wear them and my Kouros, I go into full regression mode and start reading French comic books.
Weakness?
Let's just say I'm too transparent and emotional.
Favorite wine?
Chateau Léoville – Las Cases 2005 or 2009 millésime (Bordeaux – St. Julien)
Preoccupation?
The current political narrative in the U.S.
What technology or app do you rely on most?
Shazam to stay on top of emerging musical talents, and World Clock because I don't want to wake people up in the middle of the night when I am in Tokyo and they're not.
Favorite Instagram?
@metmuseum
What or who makes you laugh?
Stephen Colbert. He is my therapy at the moment. In France, Pierre Desproges does the job.
What product in your domain is misunderstood and should be a best seller?
Made2Fit from bareMinerals. A uniquely customized foundation, freshly made only for you. Can't get any better. It is doing very well, but it should be huge.
What do you think the top beauty trends will be in 2018? Clean beauty.
What do you think is missing from the beauty industry?
The acceptance of aging.
If you won the Power Ball tomorrow, after, of course, giving the majority of it to charity, name the next five things you would do:
Learn something new every day as if I would live forever and live every day as if it were my last, enjoy family and friends, enjoy wine, write more books.
What do you wish you had invented?
The printing press.
What should Pantone's color of 2018 have been?
I wish I could tell you, but I am color blind.