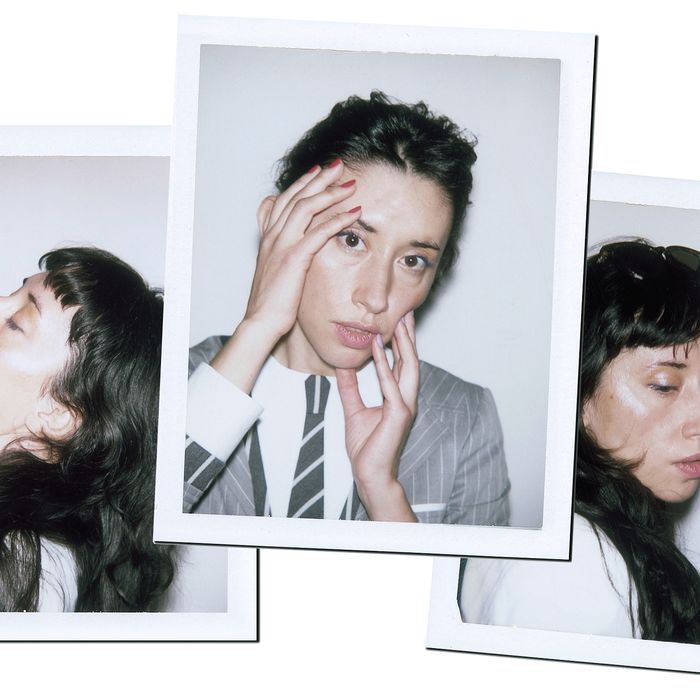 Photo: Lucas Michael. Photo Editor: Biel Parklee.
Some people have cheekbones that just demand the question: "What highlighter are you wearing?" For Marissa Herrmann, a New York–based prop stylist, the answer is pink cake decoration. As a prop stylist and occasional hand model, Herrmann constantly stands out from the crowd. She's worked with major brands like Refinery29 and J.Crew, and designed window displays for wine shops (check out her work at Slope Cellars in Park Slope). Read below for her thoughts on working at odd hours, the creative process, and fireworks.
If you could be a magazine, what magazine would you be? A Harriet Carter catalogue. They're all these "as seen on TV" inventions and contraptions that are supposed to make your life easier but are a bit more complicated than real life.  
If you could speak to animals, which animals would you want to talk to? People. Or bees, to say Please don't stop pollinating! What can I do for you?
Sneakers or slippers? Barefoot, but sneakers for safety.
What's something your social-media followers don't know about you? They might be terrified at the full spectrum of my workflow. My workspace looks like I'm trying to re-create Francis Bacon's studio. There's an interpretive dance at the end of every project where I'm writhing around on my roof next to a finished sculpture like I can't do it! I can't finish it! There's no boundary between my work and my life. They'd be horrified by that.
What was the last website you looked at? I think it was YouTube for how to put a circular saw blade back on. I was cutting wood earlier.
If you could be outfitted by one designer for the rest of your life, whom would it be? I would want to design all of my own clothes, but they would be like knockoffs of knockoffs. Or a lifetime supply of Theory suits.
What time is your alarm set for in the morning? I have a lot. One will be like set for 4:30 a.m. and just says "Get up and spray paint." One at 9 a.m. that says "Get dry ice." I have to work on stuff at crazy hours to bring it into set.
What do you eat for breakfast? Usually try to chug a liter of water. Then a banana and black coffee.
If you could only eat three things for the rest of your life, what would they be? Pickles; a toss-up between kimchi or avocado with eggs; and cigarettes, but if they had curative properties.
Fuck/Marry/Kill? Fuck: Jean Reno as Léon the Professional. He has that sexy daddy thing going on. Marry: My best friend Brianna. She's the better half of my creative brain and I think she has benefits now that she's in a union. Kill: Crippling self doubt.
If you were a color? I'd be a purple firework.
If you could be trapped in an elevator with one person, who would it be? A food delivery guy and hopefully it's pizza. Or the elevator repair person and they're single.
If you could tell Donald Trump one thing and make sure he would listen, what would it be? Mr. President, please turn around. I am going to remove your batteries now. You won't feel a thing, I promise.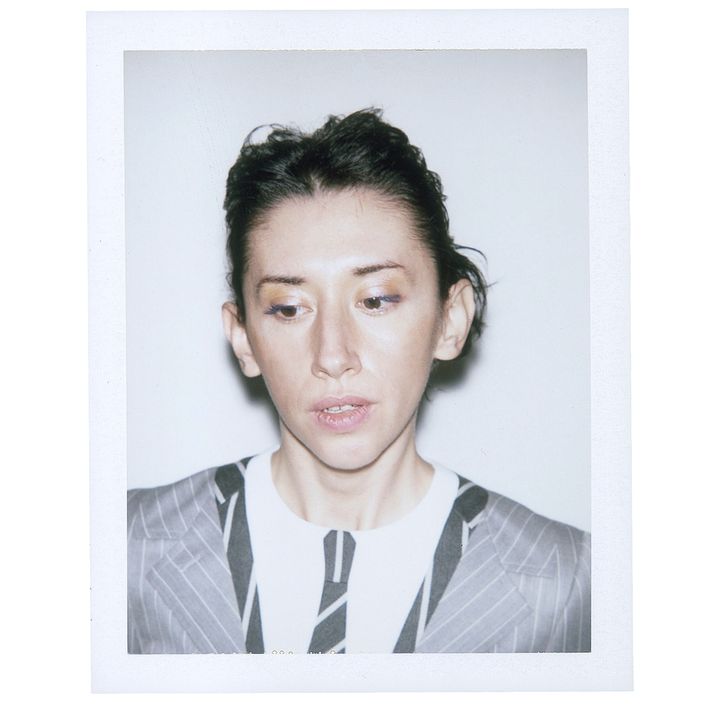 Marissa Hermann wears Thom Browne trompe l'Oeil dress, $2710 at Thom Browne.