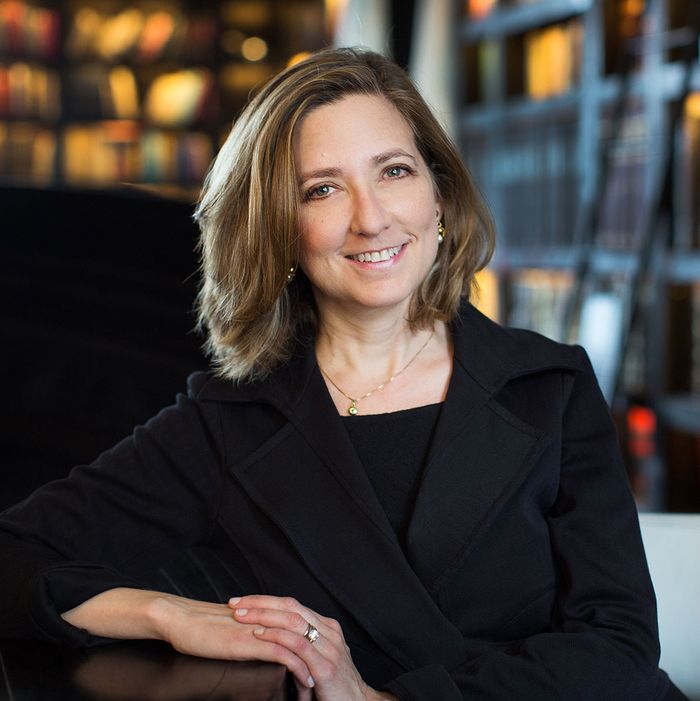 Rhonda Garelick.
Photo: Rhonda Garelick
There's a new critic at the Cut, and she's covered everything from Charlie Manson's effect on fashion to Melania's famed Hurricane Heels. Rhonda Garelick is a professor (she's a tenured professor at the University of Nebraska - Lincoln, and has taught at Princeton and NYU) and the author of three books on fashion history. She's also written for the New York Times, Wall Street Journal and T magazine. To formally introduce herself, she sat down with the Cut to discuss everything from the intersection of fashion and terrorism to advice for young aspiring journalists and academics. Read more below.
Tell me about your background and how you got started in academic writing.
I'm a New Yorker, born and raised in Brooklyn. I'm the child of a musician and my mother had worked in the fashion industry. They loved theater and dance and I kind of absorbed all of those interests. I was also a bookish child and went to a high school that cracked opened my world, New York's Hunter College High School. That's where I learned I loved being a writer and an intellectual, and loved the arts and musicals, and where I began aspiring to an academic life.
I got into academia because I went to Yale and was a comparative literature major. I was so in love with thinking and studying that I didn't want it to end. So, I stayed on for a Ph.D. because I just wanted to marinate myself in that world.
My Ph.D. is in French and comparative literature. I spent a lot time studying in Paris. I didn't yet imagine when I was younger that I could write for both a university and general audience, but I knew I wanted to communicate very broadly. I loved big conversations. And writing is one way into those big robust conversations.
How would you describe what you write about?
All my writing, both my more academic writing and my journalism, comes from my personal passions: design, the arts, fashion, theater, women's issues, and politics. And my take on everything, no matter what specific thing I'm talking about, is How can we learn from what we tend to push aside? What is revealed by the things people often dismiss? Frequently those are things that have to do with women and have to do with fashion. The deep political revelations that come from attending to those things are what I always want to focus on.
How did you make the transition from art/theater/dance criticism to criticism of aesthetics?
I haven't used that phrase for myself, but I like it. I think of myself as a critic of design, women's culture, theater, and the philosophy of art. I was working in theater and dance scholarship and started focusing more on the costuming of theater and dance. Then I realized it wasn't just costumes on stage I was interested in, it was costumes of the whole world. Fashion is really costuming the world, and the political implications expanded from that. I am working on politics and fashion right now. The relationship between politics and aesthetics is very important, especially now.
Can you explain that connection between politics and fashion further?
We're living in an era where our politics have become particularly aestheticized. There's always a relationship between aesthetics and politics, but the Trump administration is highly theatrical. We have a president who was a TV star and he ran beauty pageants. He creates spectacles. And women are a big part of those spectacles even though they're not given a loud voice. The more politically repressed women's voices are under an administration, the more they end up representing materially and visually. I use fashion in this administration as kind of a decoder ring to unearth political truths.
Is it different writing on this topic for the current administration and its women, like Ivanka, compared to when you are writing about, say, Michelle Obama? And if so, how?
I think it is different, and it's not because we're talking about right vs. left. In the current political climate in the U.S., women's cultural presentation is unusually expressive — while not seeming to be. Women's political issues are being tamped down at the same time that these highly theatrical women are being presented to us by the presidential administration. There's this powerful eruption of unspoken truth that needs to be unpacked. The fashioning of these women, and I don't just mean the clothes, holds a great deal of revealing truths if we know how to read and interpret it, and if we take it seriously. We're seeing a time where at the highest levels of government, women are not being taken as seriously as they should. So it's all the more important to take their cultural role seriously.
Could you expand what you mean by fashioning vs. fashion? What else is encompassed in fashioning?
Fashioning is a theatrical creation of a persona. It's what one might wear; it includes bodily demeanor and comportment; it includes behavior, gesture, and language if there is language. It includes physical interaction, even facial expression. And then a contextualizing of all that in larger scenarios. For example, Hope Hicks in Japan, her tuxedo and her dramatic makeup and so forth had to be considered in the context that she was in Japan, at a particular global event, and also in light of what was soon to come but wasn't being discussed then, which was likely interviews with the Mueller committee. All of that goes into the stew of her self-fashioning. And fashioning is not only by oneself — it's a group effort.
When you explain it like that, the first thing I think of is your piece on Melania Trump speaking in that pink Delpozo dress.
Oh, her Delpozo dress. That was an amazing moment. Such a loud dress and such a tiny voice.
How would you explain the notion of design criticism to someone who isn't familiar with fashion or the arts?
I would say that design and fashion criticism adds another layer of interpretation to daily life. And it's something that most of us do all the time without realizing it.
We all read one another and the world around us visually — on TV, on the subway, on the street. Design and fashion criticism informs that reading by adding layers of history and theory. Social theory, design theory, psychology — they give you tools to do what most of us are already doing. Criticism gives validation and gravitas to a realm that sometimes gets dismissed as trivial, as though it's just gossip or women's stuff. There's a sexism to that and there's also a classism to that. And it weakens us to dismiss things like that when in fact they're the decoder ring to political and social truths. It's fascinating and also empowering for people to read into it.
What is your advice for young people who might want to write about fashion and politics?
The first and biggest thing is read, read, read, and read more. Look really carefully at everything and never tamp down your natural curiosity. The best writers follow their inclinations and push past their own internalized prejudices about things. That's the kind of deep, inward work I think you need to do. There's really no distinction between the things that are delectable to you, and things that are very serious in the world. And if you can see that as an organic connection or continuum to work on, you can do great work in any kind of fashion or design criticism, journalism, or scholarly work.
Which public figures are you most interested in aesthetically right now, men or women?
I think my latest one (of many) is probably Clare Waight Keller at Givenchy, after her summer 2018 show — it was so elegant, geometric, rigorous and even writerly in a way — so many black-and-white graphics. I adored it and can't wait to see what else she does. And as ever, Iris van Herpen, because I am crazy about her effortless fusion of technology and beauty. Am I allowed to add a classic? Karl Lagerfeld — because his endless permutations on the DNA of Chanel truly amaze me. And I loved the trouser wedding ensemble of this last collection.
In your opinion, what have been some of the most important moments in fashion history?
I'd say when men of upper classes began wearing sober garb, that was one of the most influential moments. That was back in the 19th century. When being an elegant gentleman no longer meant being a peacock, that was an enormous change in social relations. And also when women moved to more human-sized figures, arguably in the 1920s. And it was really Poiret that got rid of the corset; Chanel popularized it, but it was really Poiret. The influence of machines is a huge tectonic shift in fashion as well, when we began including mechanical robotic metallic pieces. For example, Thierry Mugler's work, Lady Gaga, Iris van Herpen, I'm very interested in those folks.
If someone wanted to get an intro to your work, what would you have them read?
I would direct them to the Cut and my piece on "Hurricane Heels." I think that summed up what I'm most fascinated by at the moment. And then if they had a little more patience, I would direct them to the introduction of my book Mademoiselle which lays out how I see the role of fashion and design and politics and history.
This interview has been edited and condensed.