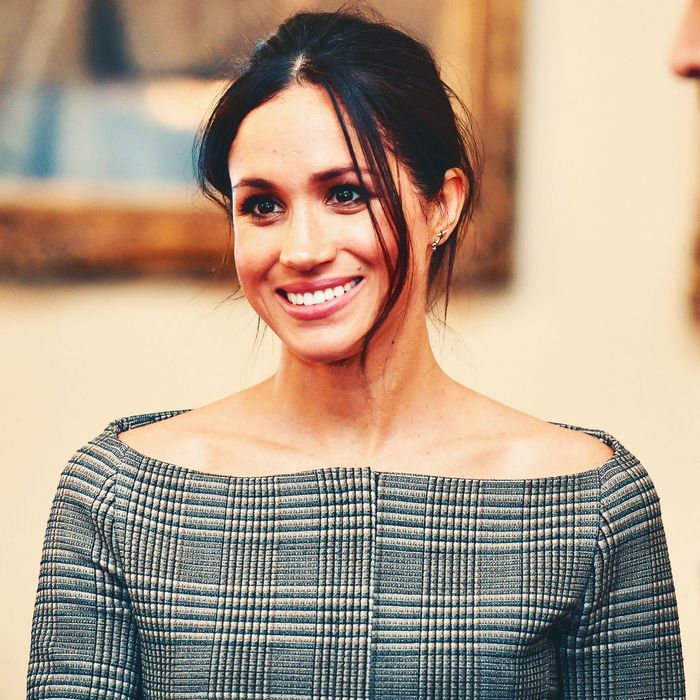 Meghan Markle.
Photo: Ben Birchall/WPA Pool/Getty Images
While the rest of us are busy bingeing Suits to prepare for the upcoming royal wedding, one of Meghan Markle's co-stars from the legal drama is opening up about the literal suit-wearer's romance with Prince Harry. Apparently, some cast members knew about the relationship as it was developing — and used a "secret" code to talk about it on set.
Wendell Pierce, who plays Markle's TV dad, chats with Harry Connick Jr. on Tuesday's episode of Harry, according to Entertainment Weekly. Admitting that he knew about the relationship fairly early on, Pierce tells Connick, "She met this nice guy and we always talked about him in code really. You know, 'How you doing?' 'Oh, I'm going to London, coming from London, whatever.'"
While "London" as a code now seems completely obvious, perhaps it was more useful in the early days of the relationship — before the world was aware that she was dating a ginger prince in London. Who knows! But Pierce also told Connick that he wished Markle all the best before her last day on set (since she's leaving the show).
"I had a really wonderful moment as we were coming to an end of her time on the show," Pierce says. "It was just she and I in the room and I said, 'I know your life is going to change but always know, no matter where you are, I will always be your loving fake father.'"
We can only hope this fake-parental exchange will be featured in the upcoming Lifetime movie about the royal romance.