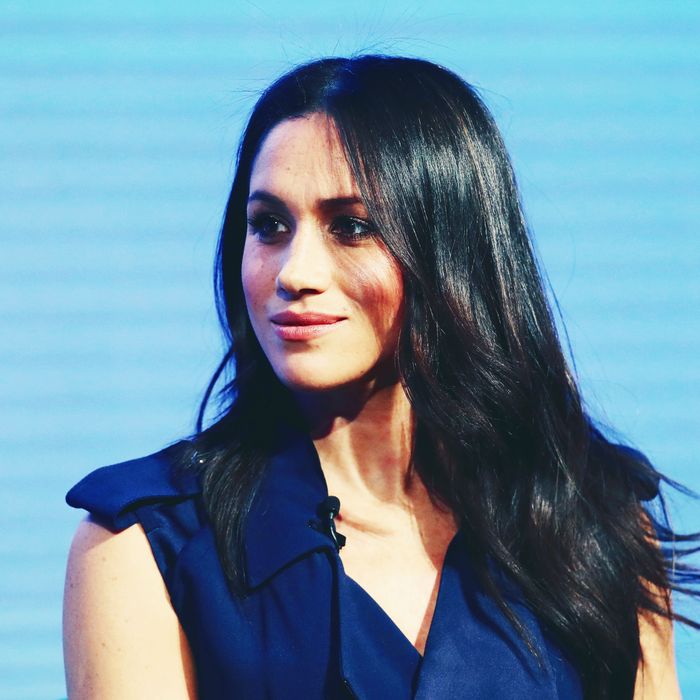 Meghan Markle.
Photo: Chris Jackson/Getty Images
On Wednesday, California queen Meghan Markle had her first official engagement with her future in-laws (you know, Prince William and Kate Middleton) and, of course, her fiancé Prince Harry. And when asked about her charity work at the Royal Foundation event, Markle voiced her support of the #MeToo and Time's Up movements.
The Suits actress was asked by the event's moderator how she planned on continuing her previous work of empowering women and girls globally in her new royal position. Markle replied, "Women don't need to find a voice. They have a voice. They need to feel empowered to use it, and people need to be encouraged to listen."
"Right now … we're seeing so many campaigns — #MeToo, and Time's Up," she continued. "There is no better time than [now] to really continue to shine a light on women feeling empowered and people really helping to support them, men included in that. It makes such a tremendous difference." Markle added that in a couple of months (as in, after her wedding) she plans to hit the ground running with her charity work.
The soon-to-be royal's remarks aren't out of character, given her past work as an advocate for U.N. Women and the fact that both she and Prince Harry identify as feminists. But her comments are surprising in light of protocols that prohibit members of the royal family from making political statements. As you'll remember, that's why Kate Middleton recently refrained from wearing black at the BAFTAs to show solidarity with victims of sexual harassment (and subsequently faced backlash as a result). Could Markle be helping to usher in a new era of more activism (and less protocol) in the royal family?