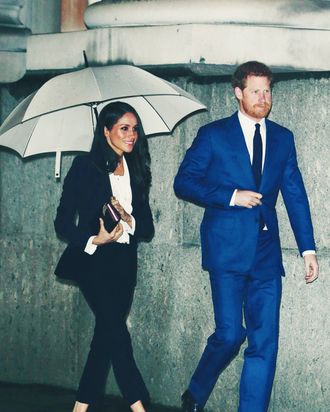 Meghan Markle and Prince Harry.
Photo: Beretta/Sims/REX/Shutterstock
What's up with my personal hero and lifelong inspiration, Meghan Markle? She just arrived at an awards ceremony with her fiancé Prince Harry in London. The ceremony, which will celebrate the achievements of wounded veterans, is the first nighttime event Markle and Harry have attended together since their engagement. Markle is wearing: an Alexander McQueen "trouser suit"!
Rebecca English, the royal correspondent at the Daily Mail, is disappointed Markle isn't wearing a dress, but I think Markle and her ankles look very cool in this suit. (Bye, Hope Hicks.)
People points out that Markle's soon-to-be sister-in-law Kate Middleton wore an Alexander McQueen gown to a dinner at the royal palace in Oslo last night. I don't like it as much.
Meghan Markle's wedding is in 107 days!