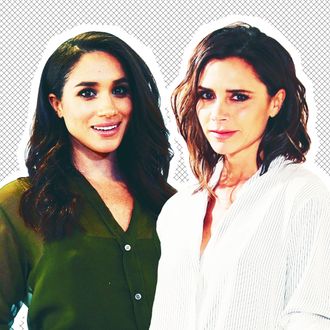 Meghan Markle and Victoria Beckham.
Photo: Getty Images
What is Meghan Markle doing right now? It's a question I find myself returning to roughly 96 times per day. One answer could be: talking to Victoria Beckham. According to a new report from Vanity Fair's royal correspondent Katie Nicholl, Markle and Beckham have become close friends and confidants since Markle got engaged to Prince Harry. Or, at least, that's how Beckham sees it.
"Victoria's quite proud of the fact that she and Meghan have become chummy and seems to want people to know they are friends," a source close to Beckham told Vanity Fair. The chatty source also revealed that Markle has been asking Beckham for fashion advice as she prepares for some public engagements with Prince Harry in Scotland next week.
"Meghan really likes Victoria's style and was keen to pick her brains about pulling together a working wardrobe," the source said. "She loves Victoria's elegant but smart dresses, so expect her to wear one very soon."
So, that's what Markle is up to: preparing a "working wardrobe" in consultation with the elegant and charming Victoria Beckham. I can't wait to see more photos of Meghan Markle wearing outfits!