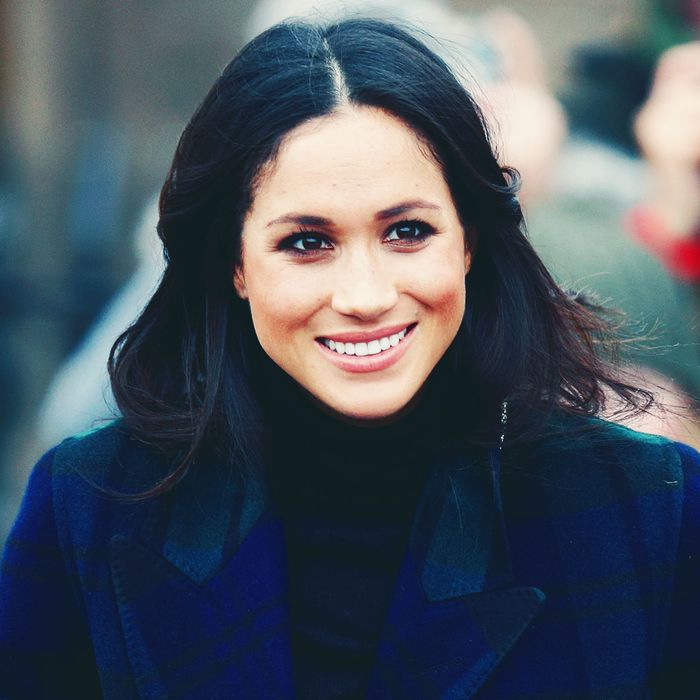 Meghan Markle.
Photo: Max Mumby/Indigo/Getty Images
The upcoming wedding between California queen Meghan Markle and royal ginger Prince Harry is rapidly approaching, and speculation over who will be designing the lip-gloss fanatic's wedding dress seems to be at an all-time high. In fact, U.K. bookies are confident that they already know the couturier — to the degree that many agencies have stopped taking royal wedding dress–related bets.
British bookies seem to think that Markle's wedding-dress designer will be Alexander McQueen — just like her future royal sister-in-law Kate Middleton. Apparently, there's recently been a "flurry of activity" on bets for McQueen, prompting agencies to wonder if the identity of the designer could have potentially leaked. A spokesperson for Paddy Power agency told the Daily Mail, "Our traders have been inundated with bets for McQueen to be the designer of Meghan's dress [on Tuesday] morning. So much so they've had to suspend the betting."
Likewise, a spokesperson for Betfair agency told the tabloid, "We previously had Ralph and Russo as the 2/1 [favorites] and there's also been talk of Erdem as a big front-runner. However, we've now suspended the market after seeing some interesting betting [on Tuesday] morning on Alexander McQueen, who went from 16/1 to 8/1 in a very short space of time."
But it's worth noting that London-based designer Roland Mouret (a longtime friend of Markle) recently made comments that left many wondering if he is designing her dress. When asked by WWD about the dress earlier this month, Mouret said, "Mmmmmm, I don't want to say. No comment. It's … there is no comment on that. She's a friend. And that's … I can't say."
And when speaking with the New York Post, Mouret said, "Meghan knows really well what she likes and the main thing with Meghan is to listen to her and work in collaboration with her." He added, "I've already said too much." Hmm … suspicious.