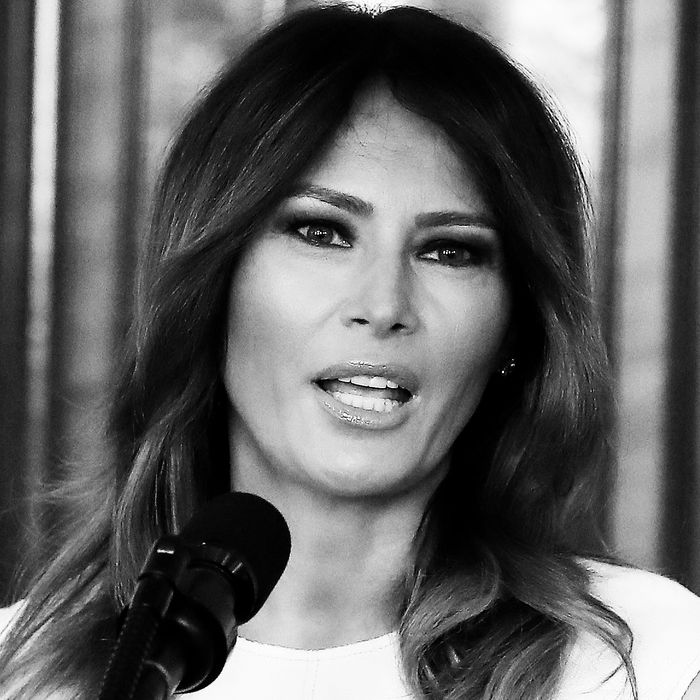 Melania Trump.
Photo: Mark Wilson/Getty Images
On Monday, Melania Trump, First Lady and wife of president and noted cyberbully Donald Trump, spoke at a luncheon for governor's spouses, saying that adults should encourage "positive habits on social media," The Hill reports.
"As I have said before, it is important that as adults we take the lead and responsibility in helping our children manage the many issues they're facing today," Melania said. "This means encouraging positive habits on social media and technology, even limiting time online and understanding the content they are exposed to on a daily basis."
She added: "I am asking you all to join me today and commit to promoting values such as encouragement, kindness, compassion and respect in our children."
Combating online bullying has been a major focus for the First Lady, a decision that seems odd to anyone who's ever read her husband's tweets. But Melania has plowed on without a trace of irony, promoting values of "empathy and communication," while her husband tweets in bed and posts things like "Crooked Hillary Clinton is the worst (and biggest) loser of all time," and "Lightweight Senator Kirsten Gillibrand, a total flunky for Chuck Schumer and someone who would come to my office 'begging' for campaign contributions not so long ago."
Last week, the First Lady was asked to answer for her step-son's online habits as well. After Donald Trump Jr. liked a tweet that suggested 17-year-old Stoneman Douglas senior David Hogg was a "crisis actor," Hogg's 14-year-old sister, Lauren, tweeted at Melania and suggested she have a word with Don Jr.
"I'm 14 I should never have had to deal with any of this and even though I thought it couldn't get worse it has because of your family," Hogg wrote.