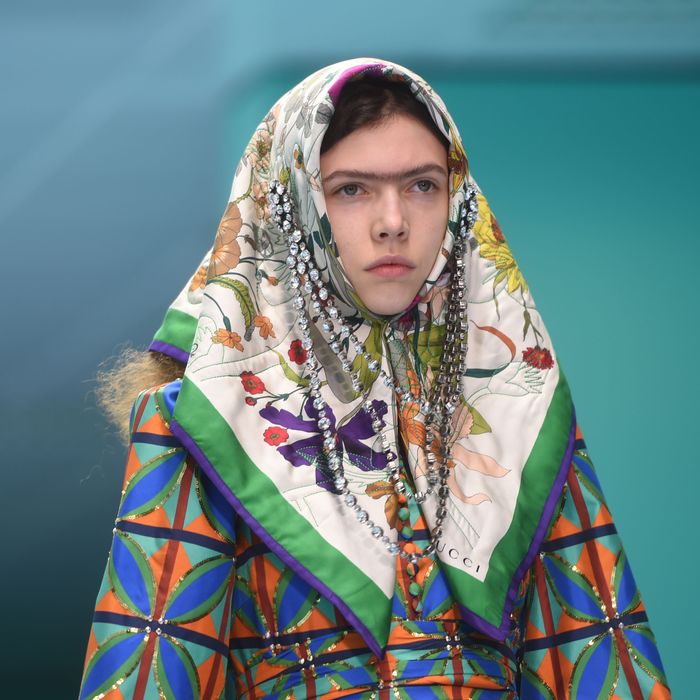 Photo: FILIPPO MONTEFORTE/AFP/Getty Images
Rest your tired, your poor, your weary tweezers. Gucci is really, truly okay with your unibrow — in fact, the brand encourages it. Yesterday's show was full of visual details including a dragon puppy, a chameleon, extra heads, extra eyeballs, and — monobrows.
Not just one, but two models walked the runway with boldly drawn-in, thatchy brows that extended across their foreheads without an interruption or a break. With Alessandro Michele's fall 2018 show serving up an inspired zombie mash-up of cultural and creative references ranging from cyborgs to Asian architecture to identity politics, it's a bold beauty statement. That the unibrowed models were wearing hijab-like head scarves may have been a challenge to traditionally accepted Western beauty standards, with Vogue speculating that the beauty inspiration may be the women of Tajikistan, where unibrows are seen as a symbol of beauty.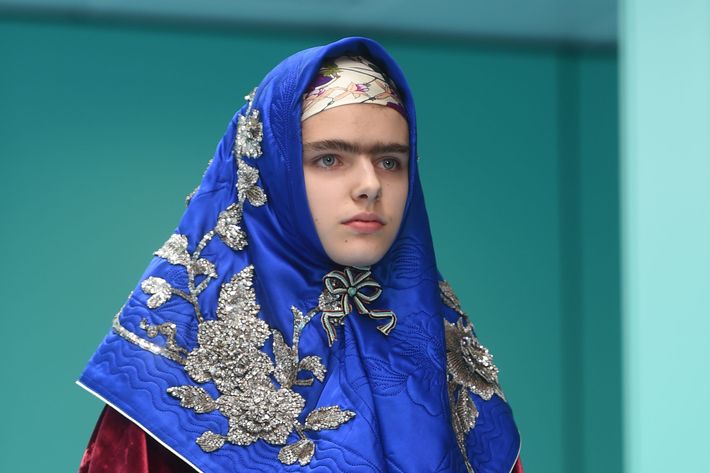 Apart from the exceptions, such as Bert of Sesame Street, Frida Kahlo, and Helga G. Pataki from Hey Arnold!, there have been relatively few unibrow champions of our time. But before Gucci, it wasn't trendy to dress grandma-chic either, so it's possible that brow change is coming. So consider going light on your glabella (the area between your eyebrows and above the nose) and letting it rest easy. In addition to 30th birthday champion Rihanna, who once did a light unibrow on the black-and-white single artwork for her song "Kiss It Better," there's already at least one unibrow Instagram influencer.