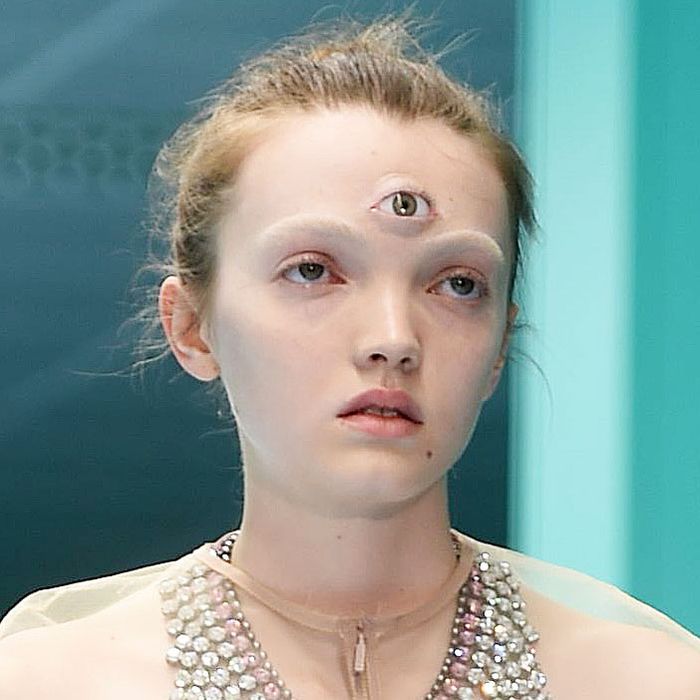 Photo: FILIPPO MONTEFORTE/AFP/Getty Images
Gucci showgoers got an eyeful this morning at the brand's fall 2018 Milan Fashion Week show designed by Alessandro Michele. The beauty look was dewy skin, lip balm, a little natural shading on the eyelids and oh yeah — an additional eyeball. One model walked the runway with a replica drawn-on eye in the center of her forehead (if you're wondering, the additional eyeball appeared to be mascara and eyeliner-free — trend alert!). Going with Gucci's open surgery set backdrop, the third eye appeared to be open, alert, and ready to take in the energy of showgoers like Chloë Sevigny and Rowan Blanchard.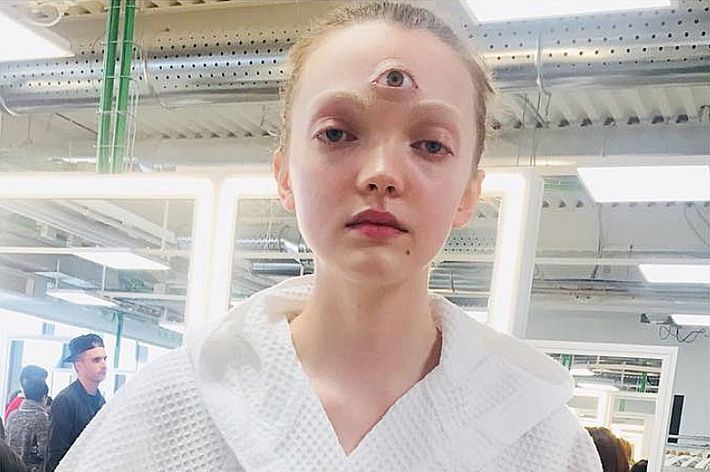 Some models even got an eye (with eyelashes!) glued onto the center of their hands, most likely using some sort of prosthetic makeup magic. Vogue reports that Italian special effects workshop Makinarium worked with Michele to create the looks. It's unlikely people noticed the eye-catching manicures, as many of the clothes had flowing sleeves that obscured their hands and wrists. (Perhaps the extra hand eye was a reference to hamsa, a Middle Eastern amulet design that serves as a sign of protection to deflect the evil eye.)
Those with a less cornea-focused beauty look had Gucci flair in other ways, such as carrying an iguana or wearing a pagoda hat. If you don't see eye-to-eye on this beauty look, cheer up — you could always try getting a dragon puppy or spending six months creating a replica extra head.