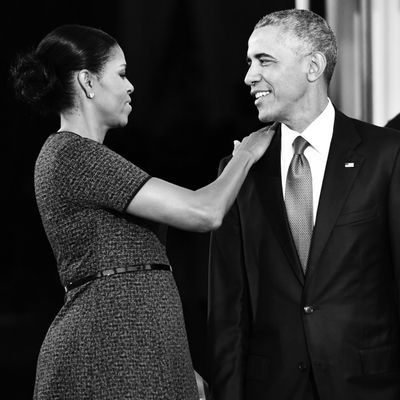 Michelle and Barack Obama.
Photo: KEVIN DIETSCH/Bloomberg via Getty Images
Former president Barack Obama may be a jury duty–reporting civilian now, but he's also a notable street-style star — who apparently doesn't have enough closet space to house his cool new clothes.
In an interview with Ellen DeGeneres that airs Thursday, Michelle Obama opened up about the former First Family's new home in Washington. Apparently the couple's 16-year-old daughter Sasha has a pretty sweet deal — two-room suite of her own — while the former leader of the free world isn't so pleased about his accommodations.
Per E!:
"He still talks about this," Michelle said in her first TV interview since leaving the White House. "He got so shortchanged on this whole deal. He doesn't have enough closet space … sorry! He's got the smallest room for his office." 
Well, at least he likely has enough space for that one tux he wears.