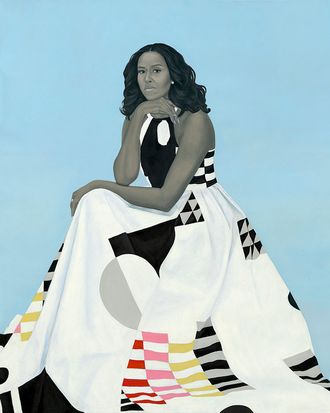 Photo: Amy Sherald/Mark Gulezian/NPG
I am not an expert on art. I cannot distinguish a painting by its artistic era, nor can I expound on the significance of a brush stroke or dramatic use of light. I know the great works of black artists because my parents made sure I did, and I know art's most famous names because that was my teachers' job. But, like many, for me art has often felt exclusionary. Too Eurocentric to be welcoming or too pretentious to be inclusive. Only recently have I had less anxious experiences with art, when places like the Brooklyn Museum and women like Kimberly R. Drew have curated exhibits that feel like they're speaking to me.
Still, I am not an expert on art, and so I will not expound on the artistic significance of Barack and Michelle Obama's official portraits. The artists Kehinde Wiley and Amy Sherald have done that perfectly well themselves. One of the ways I've learned to appreciate art is to learn of an artist's intent in the time in which they live. We have such a chance right now.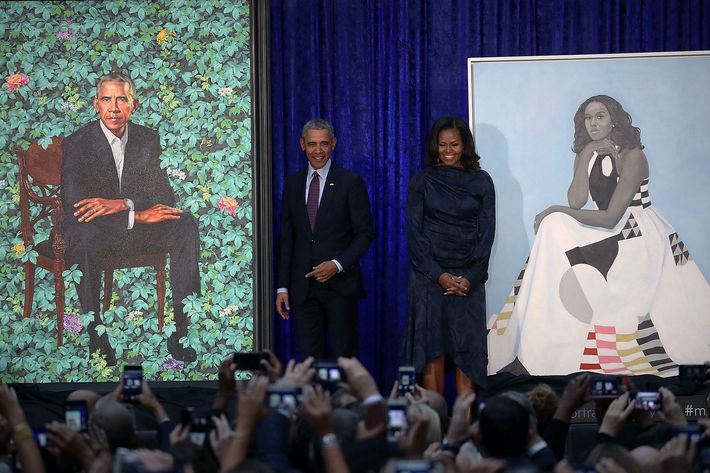 What a time to be alive. After eight years of hope, we are living in what feels like darkness. Black and marginalized people across the planet, and in our own country, are suffering in unfathomable ways. Yet the unveiling of these latest presidential portraits does not speak to what is painful about the current moment in history. No, these works are a reminder of what's possible — especially for young black girls.
Michelle Obama said as much on the occasion of the unveiling of her portrait:
"As a young girl, even in my wildest dreams, I never could have imagined this moment," she wrote on Instagram. "Nobody in my family has ever had a portrait — there are no portraits of the Robinsons or the Shields from the South Side of Chicago. This is all a little bit overwhelming, especially when I think about all of the young people who will visit the National Portrait Gallery and see this, including so many young girls and young girls of color who don't often see their images displayed in beautiful and iconic ways. I am so proud to help make that kind of history. "
On Monday, when her portrait was revealed, I felt myself tear up. I thought of our ancestors and their dreams. My own bloodline extends back to Nigeria, but that bloodline was not meant to extend past a plantation in Centreville, Mississippi. My people were trafficked there to be used. They were not meant to survive. And this portrait reminded me that we are thriving.
Indeed, these portraits come to us during a New Black Renaissance, an amalgamation of provocative black art that pricks our collective consciousness — from Black Panther to Ava DuVernay's films to Clint Smith's poetry to Dapper Dan's designs and Amy's and Kehinde's portraits. Works like these grant us permission to do more than simply defy stereotypes. They set new expectations for our humanity. We do not live to showcase what we are not. We live to affirmatively articulate who we are — and black women are bigger, badder, and bolder than even I imagined I could be.
I was raised by parents who emphasized that I could be anything, but my socialization as a young, intelligent black girl had presented only a few options: doctor, teacher, lawyer, or preacher. Despite every one of these professions being revolutionary for black girls in the '80s, each one was still, in a sense, practical. Grounded. Acceptable. I was thinking about my life in those terms, until I discovered Whitley Gilbert, the character from A Different World. Whitley was an art historian. She was passionate about art, and she chose to make her passion her profession. Her choice made me question a lifetime of practicality. That questioning pushed me to imagine a whole new world for myself. Perhaps I wanted to invent my own career — and I did.
I thought of Whitley Gilbert today, when I had the chance to sneak a peek at the portraits before the gallery opened to the public. In the vestibule, Michelle sits majestically. She wears a gown that winks lovingly at traditional black quilting patterns, and blue nails, and she hangs there just for me, and women like me. Her portrait is an important reminder: Black girls can pursue our purpose. We have permission to be impractical. We need not always be palatable. We are allowed simply to be — and be excellent in our very own way.
I am not an art expert. But I am a grown little black girl. Michelle is ours, and Amy painted this for me — and for every little girl of color who'll come behind us all.