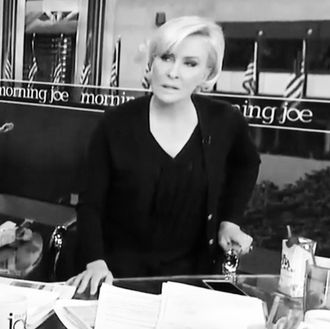 L: Michael Wolff, R: Mika Brzezinski.
While Michael Wolff was promoting Fire and Fury, his incendiary book on the Trump administration, he made an appearance on Real Time With Bill Maher, during which he claimed that Trump is having an extramarital affair. More specifically, he pointed readers to look for clues about said affair at the end of his book — which is precisely where he detailed the president's working relationship with U.N. ambassador Nikki Haley. (Haley herself came out and called the rumors "disgusting" in an interview with Politico shortly afterwards.)
On Thursday morning, Wolff appeared on Morning Joe, where host Mika Brzezinski grilled him about whether he regretted "inferring anything about Nikki Haley."
Throughout the interview, Wolff repeatedly insisted that he hadn't implied that Haley was having the affair, even claiming that what he "inferred was that the president is … many of the people around the president believe he is still involved with various women."
"Michael, you said that she has embraced it," Brzezinski shot back. "I'm going to go as far as to say that you might be having a fun time playing a little game dancing around this, but you're slurring a woman. It's disgraceful."
After more arguing, Brzezinski pulled the plug on the interview. "If you don't get it, if you don't get what we're talking about, I'm sorry. This is awkward. You're here on the set with us, but we're done," she concluded.
Wolff took to Twitter after the fact to fire off some angry missives about the appearance.
Watch a clip of the interview, below: