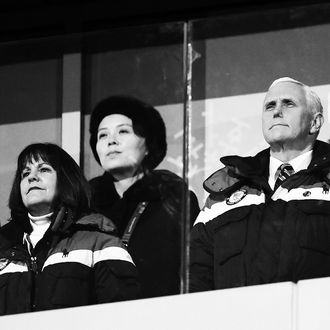 Mike Pence (front right) and Kim Yo-jong (back left).
Photo: Matthias Hangst/Getty Images
North Korean supreme leader Kim Jong-un sent his (thrilled!) sister Kim Yo-jong to the 2018 Winter Olympics in South Korea — where she was seated just a few feet away from U.S. vice-president Mike Pence and his wife/mother in a VIP box during the Opening Ceremonies. And for what it's worth, Pence would now like you to know that he totally ignored her on purpose during the event.
Speaking at an Axios event on Wednesday, Pence touched on the awkward lack-of-interaction between himself and Yo-jong. "I didn't avoid the dictator's sister, but I did ignore her," Pence told Axios's Mike Allen. "I didn't believe it was proper for the USA to give her any attention in that forum."
Meanwhile, other people were definitely avoiding Pence at the Olympics.