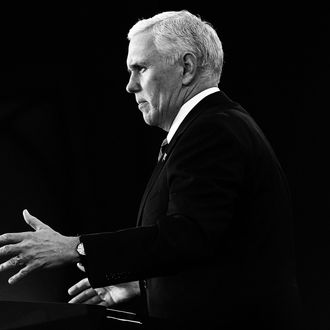 Mike Pence.
Photo: Alex Wong/Getty Images
Mike Pence has made no secret of his firmly anti-choice stance, but on Tuesday he expressed confidence that abortion in the U.S. will end "in our time." (We're presuming he means legal abortion seeing as how women still underwent the procedure even before Roe v. Wade passed.)
The vice-president's remarks came during a speech at the Susan B. Anthony List & Life Institute, the Hill reports. "If all of us do all we can, we can once again, in our time, restore the sanctity of life to the center of American law," he said. Pence added that "life is winning in America once again."
He also boasted about the Trump administration's numerous anti-abortion actions, like giving states the right to defund Planned Parenthood.
He has previously called Trump "the most pro-life president in American history."