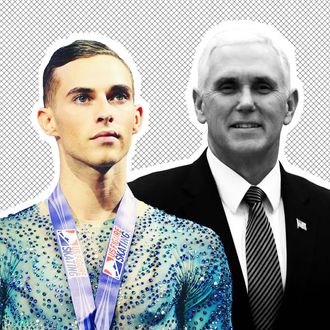 Adam Rippon and Mike Pence.
Photo: Getty Images
Mike Pence tweeted at figure skater Adam Rippon, the first openly gay athlete to compete for the U.S. team at the Winter Olympics, after reports that he refused to meet with the vice-president.
This all started back in January, after news broke that the vice-president would be leading the U.S. delegation to the Winter Olympics; Rippon was asked to comment on whether he would be open to meeting Pence. "If it were before my event, I would absolutely not go out of my way to meet somebody who I felt has gone out of their way to not only show that they aren't a friend of a gay person but that they think that they're sick," Rippon told USA Today. He did say he'd be willing to meet him after he finished competing.
Then, on Wednesday, USA Today published another report claiming that, after he read Rippon's comments, Pence asked the U.S. Olympic Committee to set up a meeting between the two of them — a meeting that Rippon allegedly denied.
After that article came out, Pence's communications director issued a statement of denial to USA Today. "The vice-president's office did not reach out to set up a conversation with Mr. Rippon," Jarrod Agen said. "As we've said before, the vice-president is supporting all the U.S. athletes in the Olympics and is hoping they all win medals."
Early on Thursday morning, the VP sent out two tweets on the matter: one decrying "#FAKENEWS" and the other a direct message of support to Rippon.
In the past, Pence has been referred to as "the most vociferously and consistently anti-gay statewide elected official in the country."