Fashion currently finds itself at a crossroad — one we've been hurtling toward for years with the influence of technology. In editorial, the divide lies between digital and print. For brands, young customers versus heritage. The challenge — and the art — lies in the industry's ability to compromise.
During fashion month, these poles appear in stark contrast. Seats once held for now-folded magazines are replaced by young social media influencers. Brands are rendered unrecognizable with new creative direction. And critics must come up with practically instant takes to keep up with what viewers see online. Fashion is nothing without change, but the moment we're in is not simply about a recycling of trends or talent; the game is changing faster than we can process it.
The world at large finds itself similarly divided. Just this week, American teenagers challenged the authority of white-haired lawmakers. Meanwhile, in Milan, rivaling protesters from the far-right and anti-fascist parties flooded the streets during the last weekend for such rallies ahead of Italy's national election in March.
You wouldn't have known any of this sitting front row at most shows, (or even posing in the street for photographers), but some Italian designers, whether they meant to or not, offered a more integrated vision of the future. The theme of the week was "hybrids," and brands like Gucci, Versace, Marni, and others managed to find a path divergent from the fork in the road so many others find themselves stuck at.
Milan Fashion Week began on Monday with an eight-pronged presentation by Moncler. The brand tapped a team of creatives to design their own capsule collections under what they're calling the "Genius" umbrella. The results ranged from a puffer that could function as an apocalyptic life raft by British menswear designer Craig Green, to a white puffer gown by Valentino's Pierpaolo Piccioli perfect for an Antarctic wedding.
For Moncler, hybrid meant a diverse collective of talent. But other designers employed the idea much more literally by combining styles, time periods, and cultures that oftentimes don't interact, either in real life or in people's closets. Brunello Cucinelli, for example, showed its signature luxe suits with sequin sweatpants. Prada paired plastic rain boots with tulle cocktail dresses, brought old motifs like bananas back into rotation, and even updated its Sport line.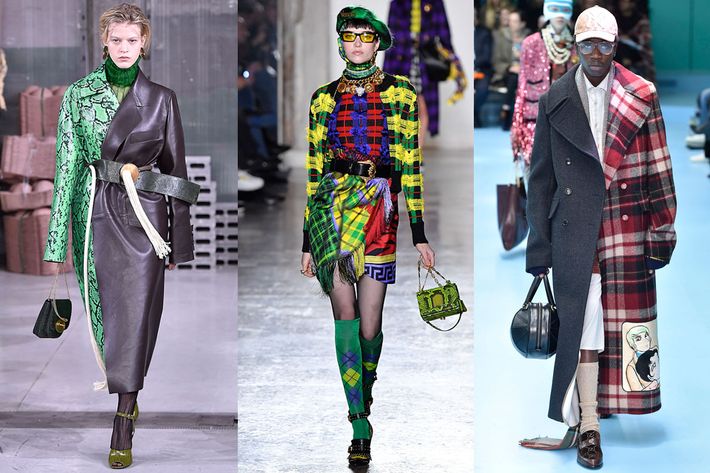 Versace's theme was "clans," or a "clash of cultures that generates friction and contrast between past and present — old and new, trendy and subculture, sneakers and stilettos," as the show notes read. It sounds far-fetched, but the clothes were actually a successful mix of archival prints and silhouettes, as well as opposite references like punk and Clueless plaids. Giorgio Armani, meanwhile, positioned his collection as an "ode to co-existence," but the specifics of this were less apparent.
Gucci, unsurprisingly, took the idea of the hybrid to the furthest, most philosophical, and weirdest place by inviting us into a "pluriverse" where post-human, post-identity cyborgs roam free. Here, Alessandro Michele thought he could get away with putting a turban on a white model — and he very well may have — but that didn't stop the internet from weighing in. Was this an example of "hybrids" gone too far? Diversity fetishized? Or, just a picture of our modern melting pot? I think the answer is that Michele likes to push boundaries.
The week ended with a fantastic "Technoprimitivism" show from Marni, where Francesco Risso created tension with contrasting colors, prints, and fabrics. The set was made of recycled materials ranging from old television sets to newspapers, and the clothes themselves appeared sewn together from scraps, as though they were fashioned by the last woman left on Earth. There were also cat motifs throughout — plus a meowing soundtrack — returning to this idea that we're all animals, too.
The concept of hybrid feels like the logical next step in a push for a more globalized, diverse, and sustainable fashion industry. Of course, there's still much work to be done in all those areas. Plus, sewing two fabrics together and quoting some philosophers won't change the world. But I'd like to see us squirm around in this moment for a bit because I think it forces fashion to try new things, revisit old ideas, and make mistakes. As Miuccia Prada was quoted saying before her fall 2018 menswear show: When you don't know what tomorrow looks like, you take a chance and create something interesting.
Can and should designers push this idea of a hybrid even further? Yes, definitely. In the meantime, I'm really relishing this moment of frenetic uncertainty. I speak from my own experience when I say that not knowing what you're doing or where you're headed is equal parts terrifying and exhilarating, like getting off a plane in a foreign country with the open road ahead of you.