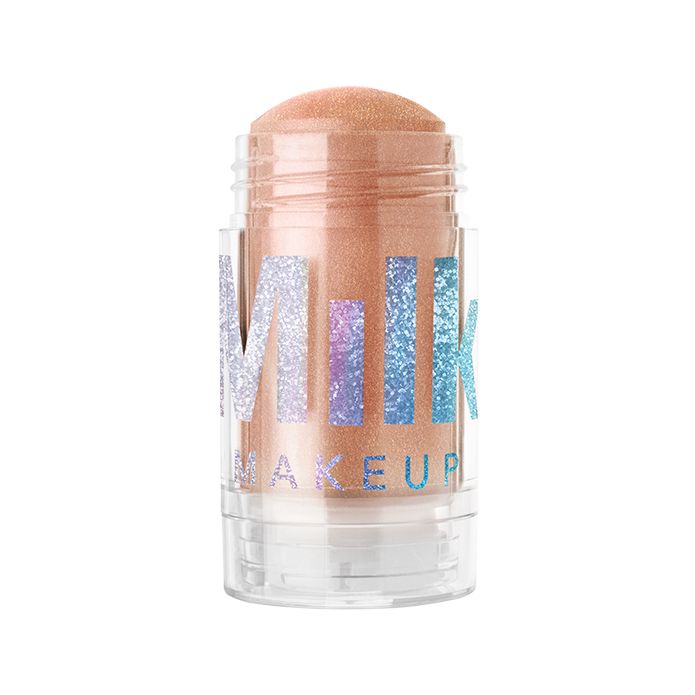 Milk Makeup, the party makeup brand of choice for millennials, dropped two new highlighters. Their new glitter highlighters will help bring that Kira Kira–generated sparkle to real life and, inevitably, right back to Instagram. The brand's Glitter Sticks, now available in two new colors, go on much smoother than the patchy, chunky glitter suspended in highly perfumed gel that was popular in the fourth grade.
Previously, Glitter Sticks only came in one color — Techno, which has a clear base with rainbow glitter. Now, there are Trance and New Wave to broaden the range. Trance has a peach base and gold glitter while New Wave has a lavender base and rainbow glitter to turn up the shimmer and holographic effects.
The two shades also come in the same vegan, cruelty-free formula as Techno. They're infused with mango butter, avocado oil, and coconut oil, which moisturize without clogging pores (at least not too much, depending on your skin type). The sticks are so easy to use, they can be applied in the middle of a rave or while hula-hooping in the park, which is probably where most people will end up wearing them. It's best to dab it on, though, to avoid looking like a rainbow trout.
Trance and New Wave are available now at Sephora, but will disappear quickly — the last day to buy them is March 14.
If you buy something through our links, New York may earn an affiliate commission.