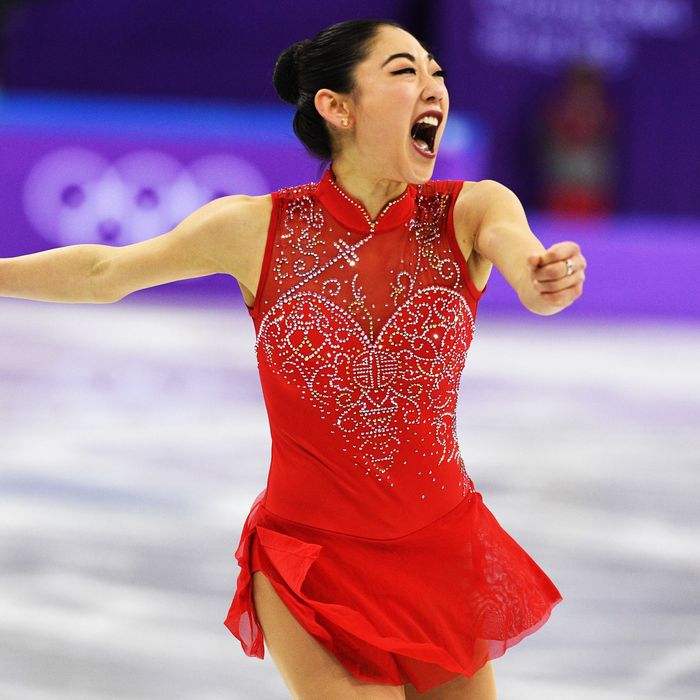 Mirai Nagasu's face after her routine.
Photo: ROBERTO SCHMIDT/AFP/Getty Images
American figure skater Mirai Nagasu just made Winter Olympics history with what was, technically speaking, one of the coolest tricks we've seen at the Games in over a decade. The jump she landed was a triple axel, and she was the first American woman to ever complete it at the Olympics.
Because words can't do it justice:
The 24-year-old skated first of the five women in the women's free skate at the team competition in Pyeongchang, and blew everyone's minds — including those not on Team USA — 21 seconds into her near-perfect routine. While Nagasu landed a triple axel at the U.S. International Figure Skating Classic last year, this jump really is a ridiculously hard maneuver to pull off. Only two other American women have even landed it at a competition: Tonya Harding in 1991 and Kimmie Meissner in 2005.
Everyone from Kristi Yamaguchi to Reese Witherspoon turned to Twitter to express their excitement using an abundance of exclamation marks and emoji.
And this was cute:
Nagasu deserved this after she was left off the U.S. figure skating's team at Sochi — a decision that caused a bit of drama. "Four years ago, when I was left off the team, I wanted to make another Olympic team, and I knew I would really have to be something special," she told the New York Times.
She came in second to Russia's Alina Zagitova, and Team USA placed third overall.