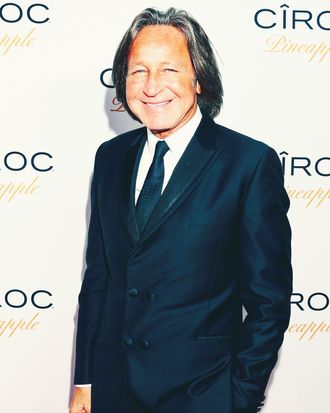 Mohamed Hadid.
Photo: Rochelle Brodin/Getty Images for The Cult Collec
On Wednesday, the model Kate Upton took to social media to accuse Guess co-founder and chief creative officer Paul Marciano of "using his power" to sexually and emotionally harass women. According to Business of Fashion, Marciano has previously been accused of sexual misconduct by two other women, and others have shared their stories in the days following.
On Friday, the model Miranda Vee posted in an Instagram caption that she had met with Marciano (she does not disclose when) at the Guess headquarters, which she says is "actually [an] apartment." Vee goes on to accuse Marciano of sexually harassing her, and then "passing her on" to his friend, Mohamed Hadid, the real-estate developer, and father of Gigi, Bella, and Anwar Hadid. (Gigi Hadid was once the face of Guess.) Vee said she was told Hadid was going to meet her for coffee.
"I thought it was a professional meeting but it was just me, him, and Champagne where he date raped me in [an] apartment," Vee writes. "All to get a test shoot for Guess." In September, Vee posted a photo tagging Guess, but it is unclear whether or not it is an official campaign image. Vee does not have a profile on models.com.
Vee concludes her post by saying that when she tried to speak about this last year, Hadid and Marciano "made" her sign a nondisclosure agreement.
"I only agreed to sign because Paul threatened me and said he would get me disappeared if I ever say anything," Vee wrote. She then hashtagged "Time's Up" and "Me Too," adding: "Why should we have to stay quiet because they have the power?"
Hadid denied Vee's claims in an interview with TMZ on Friday, saying he did agree to meet Vee about two years ago because she claimed to be a fan. However, Hadid says their meeting was "not a date" and "not once did [he] touch her."
Hadid added that he's already spoken to his attorney and plans to file a defamation suit against Vee, suggesting she go to police, not social media.