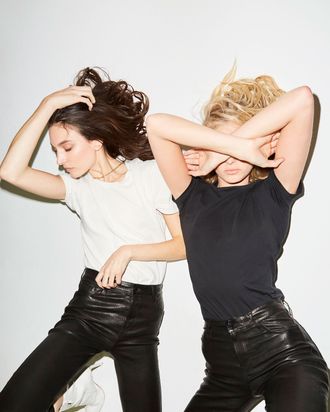 Photo: Courtesy of J Brand
Last Thursday at 1 p.m., the restaurant at the iconic Chateau Marmont Hotel in Los Angeles was the place to be for model- and celebrity-watching. At an intimate luncheon, J Brand was celebrating their spring campaign, which stars Jacquelyn Jablonski and Elsa Hosk and their respective boyfriends, Brett Robinson and Tom Daly.
Guests included Emma Roberts, lovely in a pair of high-waisted, cropped, off-white J Brand pants paired with a pale blue top; Langley Fox Hemingway, who paired her skinny jeans with a green baseball belt (a thrift store find) and a white tee; and Jaime King in a tie-waist style worn with a lacy top. They mingled with the models and photographer Magnus Unnar, who shot the campaign.
After dining on sundry appetizers, notably a prosciutto with melon and burrata course — the burrata was a big hit among the guests — and crushed avocado toast, salmon, and mountains of spaghetti Bolognese, the Cut caught up with Jablonski and Hosk to talk about the campaign and their handsome male co-stars.
It was the first time the couples had been formally photographed together (Robinson is an interior designer; Daly is the co-founder of performance eyewear and wellness brand District Vision), and from the sound of things, the four loved every minute of it. Hosk explains of the shoot, "It was all about love, coming together and celebrating love, so it comes out of that place … really good vibes."
"Magnus is one of our really good friends and the whole day just felt like friends hanging out, and us being goofballs," added Jablonski, who, like Hosk, dressed in all-white for the affair. "What you see in the campaign is actually what we're like in real life — just totally ridiculous … one's doing handstands, one's jumping off a chair, and that is just us. So it was blast. I'm glad J Brand just let us do our thing, and were like, 'Go have fun.'"
Jablonski and Robinson have been a couple for three years (their first date was to see Jurassic Park), Hosk and Daly for two and a half, and love was very much in the air at the Chateau's peony-adorned table. When asked about the secret to making their relationship work, Jablonski and Robinson conferred, discussing communication before landing on the importance of humor. "I think what it is is finding the humor in everything, even the serious things in life — being able to laugh about them," Robinson said. Jablonski affirmed, "That's the answer!"
For Hosk, who kept running into Daly on the street in New York before they started dating, it's about keeping an open mind and supporting each other's wild schedules. "I think it's just accepting the way you are and being supportive of each other's careers," she says, "because we're both have crazy jobs. I'm always traveling, he's always working, and when you find someone who gets it, it's not so hard."