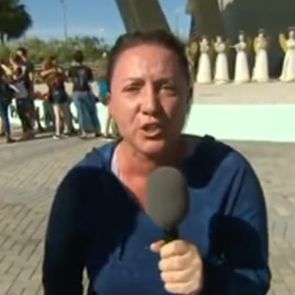 Lori Alhadeff on CNN.
Photo: CNN
As families across Parkland, Florida, mourn the tragedy at Marjory Stoneman Douglas High School, one grieving mother took to CNN to speak directly to President Trump.
"I just spent the last two hours putting [together] the burial arrangements for my daughter's funeral, who's 14!" Lori Alhadeff said into the camera.
Alhadeff's daughter, Alyssa, 14, was shot during Wednesday's school shooting.
"President Trump, please do something! Do something. Action! We need it now! These kids need safety now!" Alhadeff yelled into a microphone as she cried.
She continued: "How do we allow a gunman to come into our children's school? How do they get through security? What security is there? The gunman — a crazy person — just walks right into the school, knocks down the window of my child's door and starts shooting. Shooting her! And killing her!"
Alhadeff called on President Trump to implement tighter gun-control measures.
"President Trump, you say what can you do? You can stop the guns from getting into these children's hands," Alhadeff yelled. "What can you do? You can do a lot! This is not fair to our families and our children [to] go to school and have to get killed!"
Watch her emotional plea below: