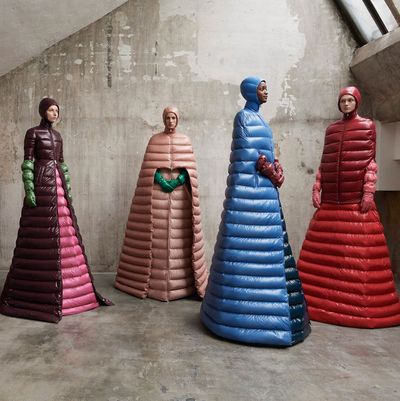 Moncler x Pierpaolo Piccioli.
Photo: Courtesy of Moncler
Just when you thought the puffer coat trend was on its last leg, Millie Bobby Brown showed up to Milan Fashion Week in a Moncler x Simone Rocha puffer coat gown — yes, gown — and the outerwear garment was given a new life once again.
The 14-year-old Stranger Things actress wore a piece from Moncler's new "Genius" collaboration project, which debuted with an eight-part presentation on Tuesday night. In addition to British designer Simone Rocha, Moncler tapped five other fashion masterminds including Valentino's Pierpaolo Piccioli, menswear designer Craig Green, and Comme des Garçons–adjacent designer Kei Ninomiya — each of whom interpreted the classic puffer coat in their own strange-but-genius ways.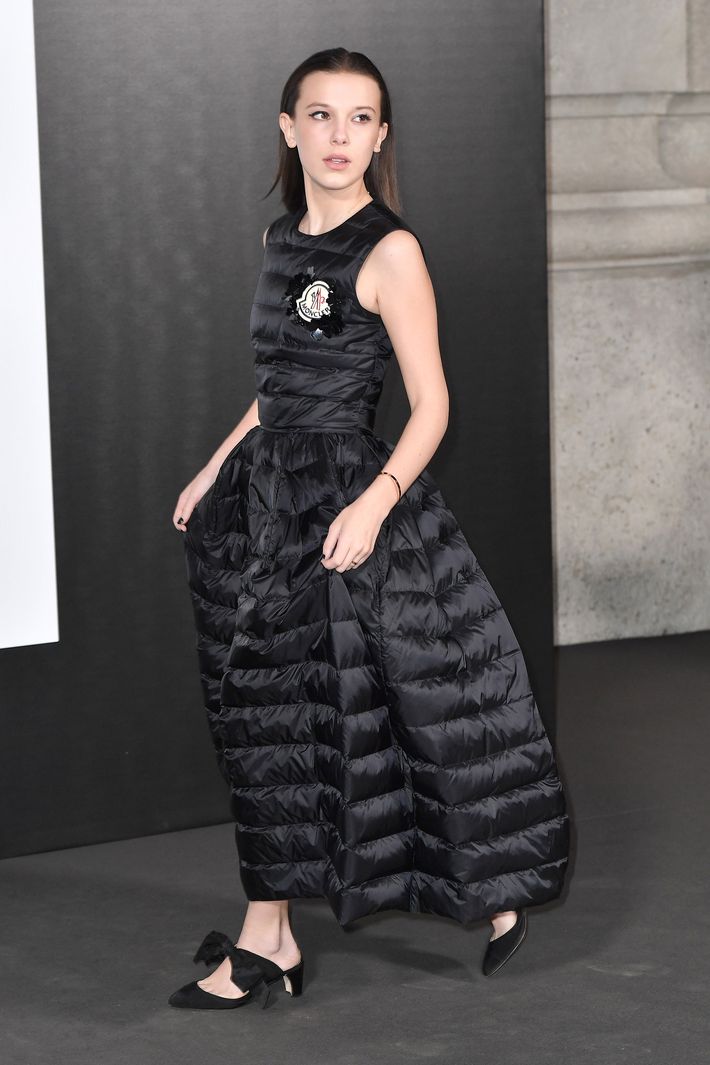 Piccioli's towering, colorful puffers were a standout of the evening. He told the Cut he was inspired by depictions of the Madonna done by Italian Renaissance painters like Piero della Francesca and Giotto. Green's coats, by comparison, resembled doomsday flotation devices — but with equally masterful construction. Rocha proved puffer coats can have the look and feel of couture, too.
The Genius Project, as Moncler is calling it, not only yields new and interesting work but also has the potential to attract drop-obsessed millennial consumers. (According to Vogue Runway, collections will be rolled out one at a time on a monthly basis.)
Young models Sarah Snyder, 22, and Luka Sabbat, 20, flew to Milan just for the occasion. Well, they also wanted to see Leonardo da Vinci's "The Last Supper," and eat some spaghetti along the way, too.
"Pasta with butter and cheese," Sabbat listed as his priorities.
No sauce?
"Nah, chill," he said. A genius doesn't need to explain.