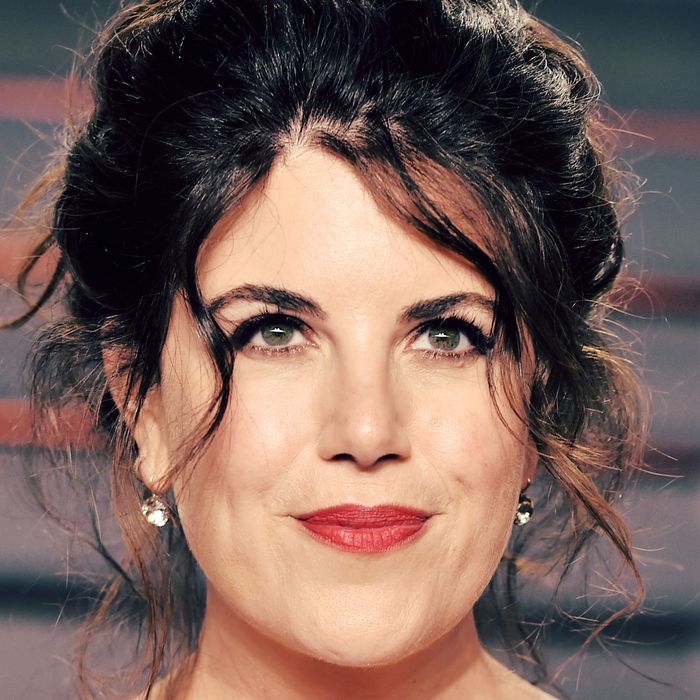 Monica Lewinsky.
Photo: Pascal Le Segretain / Staff/2016 Getty Images
Nearly 20 years after Monica Lewinsky was thrust into the public eye, at the heart of the Clinton scandal, the public perception of relationships between powerful men and young women has turned. Or at least, it's starting to. In the middle of the #MeToo movement, Lewinsky reflects on her "isolating" experience in a new essay in Vanity Fair. For the past 20 years, she writes, she has lived in the "House of Gaslight" and is only beginning to reevaluate the events she lived through. Just four years ago, she said (also in Vanity Fair) that the Clinton scandal was a consensual relationship, and the abuse occurred after. The full essay can be found here, but read below for some standout quotes.
On PTSD: To be blunt, I was diagnosed several years ago with post-traumatic stress disorder, mainly from the ordeal of having been publicly outed and ostracized back then. My trauma expedition has been long, arduous, painful, and expensive. And it's not over. (I like to joke that my tombstone will read, MUTATIS MUTANDIS—"With Changes Being Made.") I've lived for so long in the House of Gaslight, clinging to my experiences as they unfolded in my 20s.
But as I find myself reflecting on what happened, I've also come to understand how my trauma has been, in a way, a microcosm of a larger, national one. Both clinically and observationally, something fundamental changed in our society in 1998, and it is changing again as we enter the second year of the Trump presidency in a post-Cosby-Ailes-O'Reilly-Weinstein-Spacey-Whoever-Is-Next world.
On Bill Clinton: … in 1998 the person to whom we would typically turn for reassurance and comfort during a national crisis was remote and unavailable. The country, at that stage, had no consistent, Rooseveltian voice of calm or reason or empathy to make sense of the chaos. Instead, our Nurturer in Chief, because of his own actions as much as the subterfuge of his enemies, was a figurative "absent father."
On loneliness: "I'm so sorry you were so alone." Those seven words undid me. They were written in a recent private exchange I had with one of the brave women leading the #MeToo movement. Somehow, coming from her—a recognition of sorts on a deep, soulful level—they landed in a way that cracked me open and brought me to tears. Yes, I had received many letters of support in 1998. And, yes (thank God!), I had my family and friends to support me. But by and large I had been alone. So. Very. Alone. Publicly Alone—abandoned most of all by the key figure in the crisis, who actually knew me well and intimately. That I had made mistakes, on that we can all agree. But swimming in that sea of Aloneness was terrifying.
On #MeToo: Isolation is such a powerful tool to the subjugator. And yet I don't believe I would have felt so isolated had it all happened today. One of the most inspiring aspects of this newly energized movement is the sheer number of women who have spoken up in support of one another. And the volume in numbers has translated into volume of public voice. Historically, he who shapes the story (and it is so often a he) creates "the truth." But this collective rise in decibel level has provided a resonance for women's narratives. If the Internet was a bête noire to me in 1998, its stepchild—social media—has been a savior for millions of women today (notwithstanding all the cyberbullying, online harassment, doxing, and slut-shaming).
On her own reckoning: Now, at 44, I'm beginning (just beginning) to consider the implications of the power differentials that were so vast between a president and a White House intern. I'm beginning to entertain the notion that in such a circumstance the idea of consent might well be rendered moot. (Although power imbalances—and the ability to abuse them—do exist even when the sex has been consensual.)