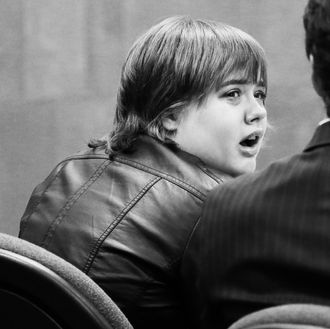 Morgan Geyser.
Photo: Michael Sears/TNS via Getty Images
On Thursday, Morgan Geyser, one of two Wisconsin teenage girls accused of attempting to murder a classmate for the fictional Slender Man horror character, was sentenced to 40 years in a mental hospital. Her sentencing comes just a few weeks after her alleged accomplice Anissa Weier was sentenced to 25 years in an institution for the crime.
Geyser, 15, pleaded not guilty on the grounds of mental illness back in August for the crime, while Weier, 16, pleaded guilty to attempted second-degree homicide as a party to a crime. Both girls have been accused of luring classmate Payton Leutner into the woods in 2014 and stabbing her 19 times to curry favor with the Slender Man meme. The alleged attackers and the victim were all 12 at the time of the crime, and Leutner narrowly survived the attack. Geyser and Weier were tried as adults for the crime.
The fictional Slender Man character originated in a Photoshop contest on the Something Awful forums. He's an incredibly creepy, tall and thin mythical creature in a black suit and blank face, with tentacle-like appendages. Weier and Geyser hoped to serve as proxies for Slender Man through the attempted murder, they reportedly told detectives.
Geyser has been diagnosed with schizophrenia and oppositional defiant disorder, and on Thursday, Judge Michael Bohren ruled that she remains a risk to hurt herself and others, the Chicago Tribune reports. The judge reportedly said in a passing sentence, "what we can't forget is this was an attempted murder." Prosecutors had asked the judge to sentence her to the maximum 40 years in an institution.