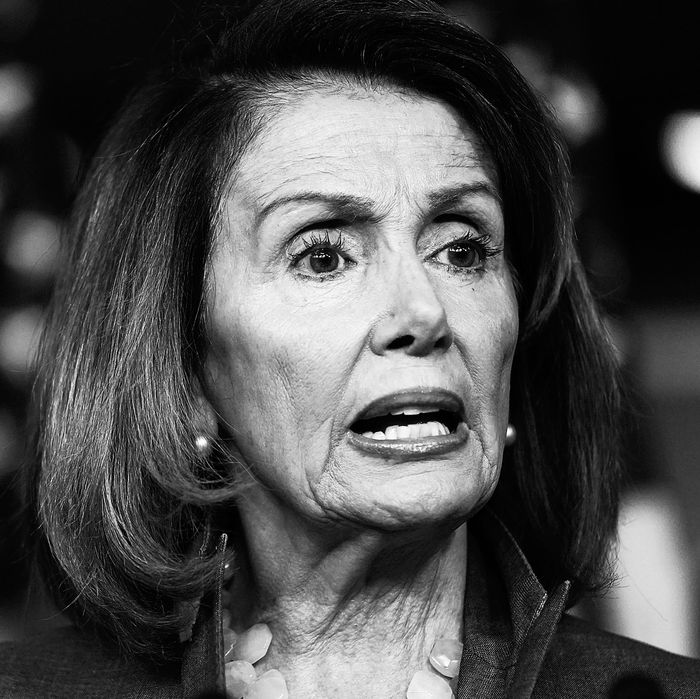 House Minority Leader Nancy Pelosi.
Photo: Chip Somodevilla/Getty Images
Seventy-seven-year-old House Minority Leader Nancy Pelosi spoke for a record-setting eight hours on the House floor today, and — to the amazement of anyone who has ever worn women's shoes — did the whole thing in four-inch heels.
Pelosi's marathon speech came as Congress is trying to pass another stopgap spending bill to keep the government open. But the current version leaves out protections for Dreamers. And Pelosi has said she wouldn't vote for the bill unless Speaker Paul Ryan pledges to consider legislation to protect Dreamers, whose future remains uncertain as President Trump has said he opposes DACA. (Pelosi and Democrats are currently facing criticism from immigration advocates for not forcing a vote on a DACA extension.)
Although filibusters aren't technically allowed in the House, Pelosi's stature as party leader permits her to speak for as long as she wants. She spent her time on the House floor sharing the personal stories of Dreamers who have written to their representatives.
The White House and Republican leaders have said they would like to see a debate on immigration after this budget bill passes. Perhaps for that round, Pelosi will consider Wendy Davis's hot-pink "patriarchy outrunning" sneakers instead.
Check out Pelosi's heels below.