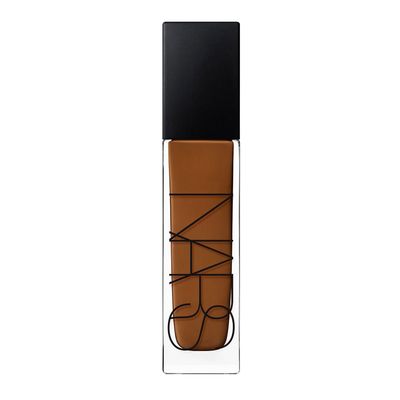 Some questionable tapas led me me to discover my new favorite foundation. While on holiday in Spain a few months ago, I spent the latter half of my trip with the telltale signs of food poisoning. We don't need to get into the details of what happened, but my skin turned gray, my dark eye circles were more sunken in than ever, and even the sight of a deep-fried croqueta was nauseating.
Neverthless, I soldiered on with my vacation, and slathered a thin layer of NARS Cosmetics' new Natural Radiant Longwear foundation every morning on my face. Its lightweight, thin texture made it feel like I wasn't wearing any makeup at all, wasn't an added distraction from my general queasiness, and I thought it would make me look slightly more alive. Looking back at the photos, you would never know I was sick and turning away churros and jamón. My skin looked even and supremely smooth, and it had an incandescence, as though I had been eating only vegetables for the past few days. My friend who was traveling with me remarked on how natural and "real-skin-like" the foundation looked throughout the whole trip. She ended up buying one for herself once she was back in London.
Now back in New York, I continue to use it a few times a week. The regularity at which this foundation garners flattery is almost comical. On days I do use it, I'll notice strangers and friends staring an extra beat longer at my skin, compliment me, and ask me what I'm using. On days I don't use it, the compliments dry up.
It comes in 35 shades, ranging from a good range of light to dark tones. It allegedly also is sweat-resistant, fade-resistant, and has a 16-hour wear. From my testing, I've found that it's certainly longwear, but I think it looks best and most glowy under the 12-hour mark.
If you buy something through our links, New York may earn an affiliate commission.