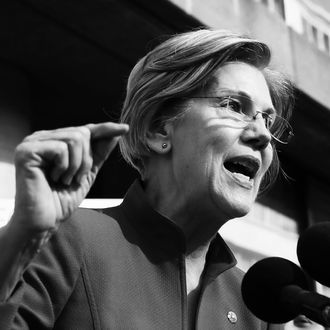 Senator Elizabeth Warren.
Photo: Mark Wilson/Getty Images
Massachusetts senator Elizabeth Warren and Nevada representative Jacky Rosen introduced a bill Tuesday morning that would require public companies to make public all allegations of sexual harassment and settlements in their workplaces, BuzzFeed News reports.
Titled "Sunlight in Workplace Harassment Act," this piece of legislation is the latest to come out of the current #MeToo movement. The bill would mandate that companies publicly report all sexual-misconduct settlements, including how much money was paid out, as well as all harassment cases related to race, religion, gender, and sexual orientation. However, the names of people involved in the cases would not be included in any of said reports, as this legislation explicitly prohibits that.
"Our bill will help systemically expose workplace harassment and push employers across the country to aggressively prevent it," Warren told BuzzFeed. "I'm working to make sure Congress prevents workplace harassment both within its walls and outside of them."
Rosen is hopeful that this piece of legislation will gain bipartisan support, as she told BuzzFeed that several of her Republican colleagues have expressed interest in the bill.
"It's my hope that we can bring Republicans on board in the House and Senate to move this plan forward," she said.