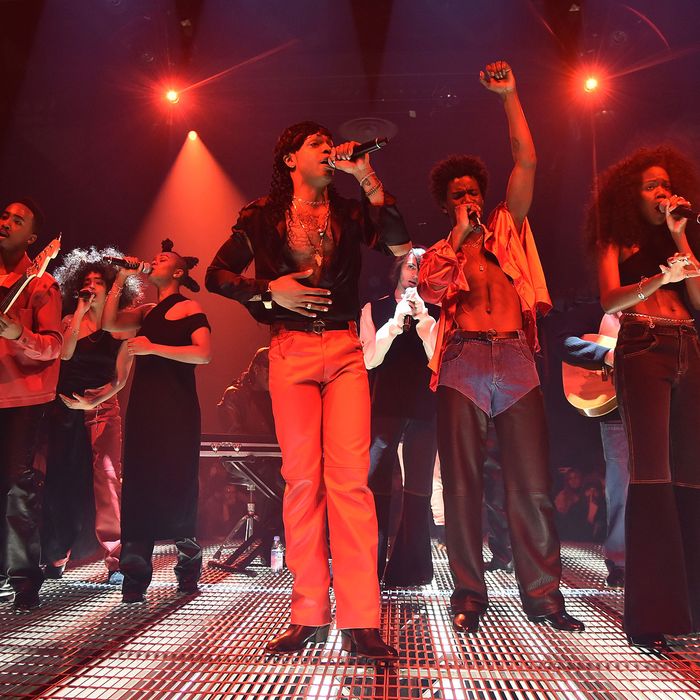 Telfar fall 2018.
Photo: Theo Wargo/Getty Images
Do people still care about New York Fashion Week?
This is a question designers and editors have been asking themselves over the past few seasons as more and more brands either move off the calendar or move abroad. But I'm starting to think this is the wrong question, as it fails to look beyond the traditional scope of what's interesting, and to whom.
Of course some people still care about New York Fashion Week. Fashion has just chosen not to care about them. They may not be the people with the most money or the most mainstream influence, but they are here — and thriving — despite all the hand-wringing about more established players.
If you think no one cares about New York Fashion Week anymore, then you clearly weren't at the Telfar show on Friday night, which attracted hundreds of people and turned away almost as many at the door after quickly hitting capacity. You weren't at the brand's after-party, either, where fans waited in the cold for hours in the hopes of eating a White Castle onion ring inside Century 21, and maybe snagging a free tote bag.
You must have missed Chromat, too, which elicited smiles and cheers from everyone the audience. Did your heart clench when the choir started to sing at Pyer Moss? Were you crying front row at Gypsy Sport, like model Paloma Elsesser was? Or jumping out of your seat at Christian Siriano, like Cardi B? And really, who needs a Klonopin, when you have soul-soothing shows like that of Eckhaus Latta?
These were the New York Fashion Week moments that moved me, and not necessarily because of the clothes. Instead, I was struck by the sense of community each of these brands created — one that felt energized, authentic, and open to everyone, not just fashion people. This is ultimately what makes someone care, and (because fashion is still a business) actually spend money: you want to feel like you're a part of something.
"It's so important for communities which are usually commodified and profited from — but not afforded a space to benefit — to have a space and be praised," said Elsesser of her experience at Gypsy Sport. There, a 10-year-old self-proclaimed "drag kid" who goes by Desmond Is Amazing made his runway debut among many other nontraditional models. "I looked around the room and saw some of the most powerful editors and broke out in tears at how important it is for LGBTQ lives, black lives, fat lives, everyone to be seen, and most importantly valued, on that platform. It was incredible."
This sense of community felt considerably more powerful than any explicit political statement designers tried to make on the runway this season. The same way that appearing effortless is a fashion insider's modus operandi, not trying too hard is the key to a designer's success in 2018. Just be yourself. Involve your friends and those who inspire you. And use your voice in a way that doesn't feel preachy or overly didactic. For cash, maybe involve corporations like White Castle, as Telfar did. Or Reebok, like Pyer Moss.
"I think the core thing about the line is it's not an identity-based line. Not even just in a racial sense, but even gender and class," Babak Radboy, Telfar's creative director, told WWD in a recent interview. "The whole point of the line is that it's universal. And that specifically is what makes it politically charged or challenging. But Telfar is saying, 'No, this is normal.'"
What sets these emerging brands apart is that they've been true to their identities since day one, even though it took until 2018 for the industry to embrace what they stand for. Christian Siriano, for example, celebrated his ten-year anniversary this season. "Christian always celebrated the diversity of women," said model Candice Huffine backstage. "You just feel it now more than ever."
It also took ten years for the work of designer Telfar Clemens to receive a formal review from the fashion industry. In other words, it took ten years for fashion to care, despite the fact that he's been showing genderless, see-now-buy-now, "normcore" clothes since 2005. In 2017, however, Clemens won the CFDA/Vogue Fashion Fund, which awarded him $400,000. Having being rejected, then suddenly accepted, by the industry, he wrote, "It's not lost on us that the cause for both may be the same."
Of course, every creative person feels slighted until they aren't, or like an outsider until they're an insider. And of course, there were other shows that would have moved me, had I been invited to them. Soon, it will probably be hard to get a seat at a Telfar show, too. But I think what's different about this current cycle in fashion is that as more big names leave the official calendar, different communities are able to move in, fill the space, and shine. It's in fashion's best interest to at least show up, if they'll have us.