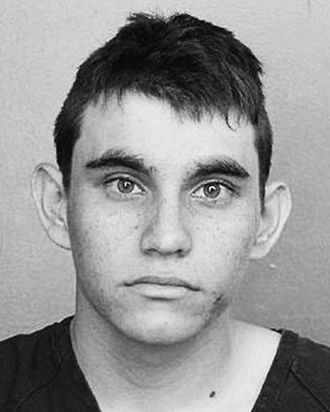 On Wednesday, at least 17 people were killed during a shooting at Marjory Stoneman Douglas High School in Parkland, Florida. The suspect, 19-year-old Nikolas Cruz, was arrested at the scene, and, on Thursday morning, he was booked into Broward County Main Jail. Cruz currently faces 17 counts of premeditated murder, and is expected to make his first court appearance sometime on Thursday (though the Miami Herald notes he will be denied bond). Here, everything we know about Cruz so far.
Cruz is a former student who had been expelled from the school.
According to Sheriff Scott Israel of Broward County, Cruz is a former student of Marjory Stoneman Douglas High School. He had previously been expelled for undisclosed disciplinary reasons. One student told the Herald that Cruz had at least partially been kicked out for bringing bullets in his backpack onto the school premises. Cruz was attending another school in Broward County after his expulsion.
He had allegedly been abusive to an ex-girlfriend.
Victoria Olvera, a student at the school, told USA Today that Cruz had ultimately been expelled after a fight with his ex-girlfriend's new boyfriend. She also said that Cruz had been abusive to his girlfriend.
He had been identified last year as a potential threat to his classmates.
"We were told last year that he wasn't allowed on campus with a backpack on him," Cruz's former math teacher Jim Gard told the Herald. Gard, who was locked in his classroom during the shooting, added, "There were problems with him last year threatening students, and I guess he was asked to leave campus." However, superintendent Robert Runcie told reporters, "We received no warnings. Potentially there could have been signs out there. But we didn't have any warning or phone calls or threats that were made."
Cruz was reportedly obsessed with a female student at the school.
Jim Gard also told the New York Times that several students had alerted him to the fact that Cruz was allegedly obsessed with a female student at the school "to the point of 'stalking her.'"
He reportedly had ties with a white supremacist group.
The day after the shooting, a leader of the Florida white nationalist group Republic of Florida claimed Cruz had ties to his organization. Jordan Jereb told the Associated Press that Cruz "acted on his own behalf of what he just did." He also said Cruz was a member of the group and had participated in paramilitary drills.
Cruz posted images of guns on social media and allegedly wrote threatening comments about wanting to shoot people.
Sheriff Israel has called Cruz's digital profile "very, very disturbing," as it contained a number of gun and violence-related posts, according to CNN. Such posts left under the name Nikolas Cruz on YouTube pages and other websites include, "I whana shoot people with my AR-14" [sic], "I am going to kill law enforcement one day they go after the good people," and "I wanna die Fighting killing shit ton of people." He also posted pictures on Instagram of himself holding what appears to be a BB gun, as well as an image of a shotgun and others in which he was covering his face and holding long knives.
Cruz reportedly posted pictures of himself in a "Make America Great Again" hat, and also wore it to school.
A current and former student told the Daily Beast that Cruz wore a "Make America Great Again" hat at school. "He always wore like really patriotic shirts that seemed really extreme, like hating on the Islamic religion. For example, he would say things such as like, he would degrade Islamic people as terrorists and bombers. I've seen him wear a Trump hat," one student said. Additionally, Cruz wore the hat in an Instagram photo the company said belonged to him, though his face was covered by a red, white, and blue bandana.
The leader of the white supremacist group says Cruz may have committed the shooting out of hatred of Jewish people or women.
Speaking with the Daily Beast, Republic of Florida member Jordan Jereb said, "There's a very real sense of feminism being a cancer. That could've played into what he did, but we have female members of RoF." Jereb added, "We're not a big fan of Jews. I think there were a lot of Jews at the school that might have been messing with him."
He purchased the rifle used in the attack legally.
The AR-15 rifle that Cruz allegedly used in the attack was purchased legally. "No laws were violated in the procurement of this weapon," Peter J. Forcelli of the Bureau of Alcohol, Tobacco, Firearms and Explosives, told the New York Times.
Cruz had been living with the family of a student at the school since his adoptive mom passed away in November.
Cruz's adoptive mother, Lynda Cruz, died in November from the flu and pneumonia, her cousin Kathie Blaine told CNN. His adoptive father died more than ten years ago from a heart attack. Cruz had been living with a friend's family since his mother's death, according to an attorney who represents the family. "They offered him a home and tried to help the kid out because he really didn't have any other place to stay," attorney Jim Lewis told WPTV. The family's son is a student at Marjory Stoneman Douglas High School.
This post has been updated.