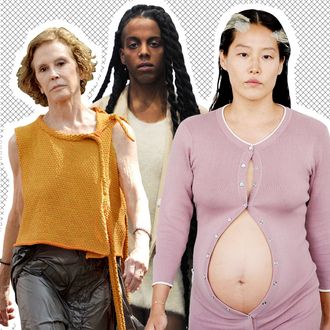 Certain moments attach themselves to the collective psyche of runway show observers: The Supers reuniting at Versace's spring 2018 show. Hood by Air's, um, glossy models. And, last year, the pregnant model at Eckhaus Latta with her belly exposed in a cardigan dress.
Zoe Latta and Mike Eckhaus are used to provoking Fashion Week conversation. In the service of their gender-fluid clothing line, they've released campaigns of real couples having sex, used (and re-used) older models, and dared to take Fashion Week to Queens. Latta and Eckhaus spoke with the Cut about their casting process, the pregnant model, and what to look forward to with their upcoming show.
Eckhaus Latta is known for having some of the most diverse casting of the week. What is your approach to casting?
Zoe Latta: Every season we hold a casting, whether it's an open model call or anyone or going through agencies. And we see who comes through and is willing to do it. We also use people in our community that we know who we would love to work with and we assemble it the same way we'd assemble our collection. We just make sure people work together. It's not about having a quota of this many industry or non-industry people.
Mike Eckhaus: It's always been key that it's people we're genuinely excited about who wear clothing well and have a strong sense of their own identities. It's really organic and intuitive, at the end of the day. We also reflect on the season prior and see what worked and what didn't work, so it always feels exciting and compelling to us constantly.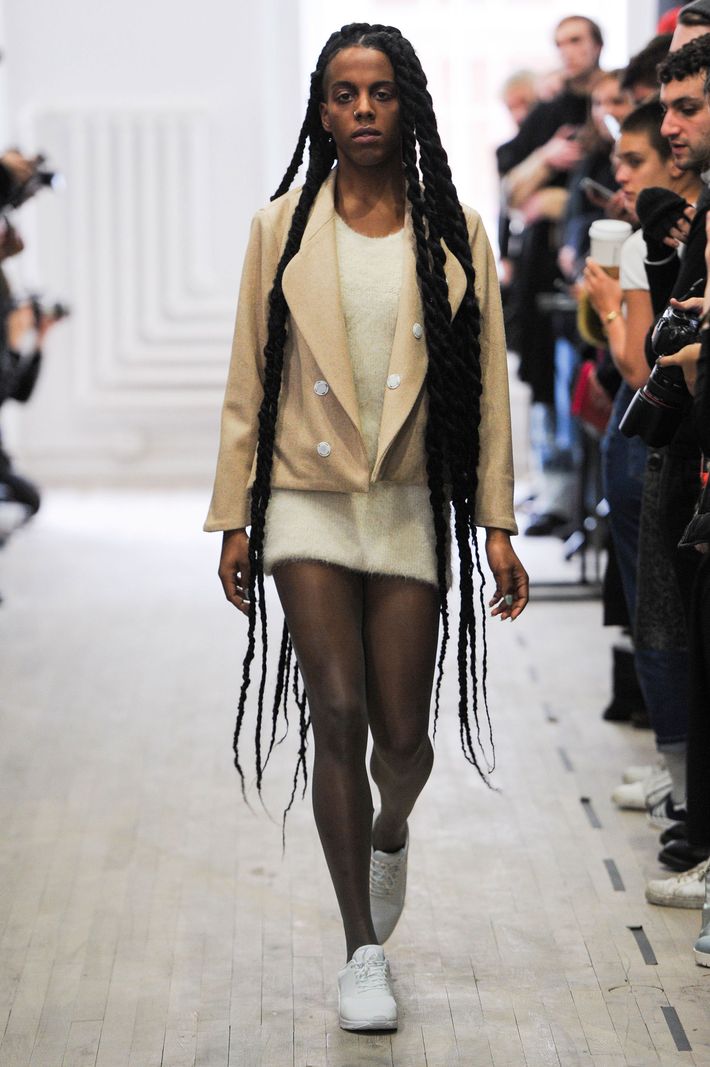 How does that apply to this upcoming show?
ZL: We're in the thick of it right now.
ME: A lot of our typical models we've had for years are out of town this season. There are certain people who have walked in our show eight times or ten times who aren't going to make it this year. So that will make it feel different in some sense. We work with Rachel Chandler as a casting director, and we're just figuring out now how it will all come together.
Last year, with the pregnant model, how did that come about? Were you surprised by the reaction she got?
ZL: We were very surprised it became such a big moment because we're not the first to use a pregnant woman on the runway, at all. It wasn't for the shtick of it. Maia [Ruth Lee, the model] is a friend and is a beautiful person who was also pregnant at the time. Rachel had given birth five weeks before so we were just excited by it. And we were very surprised by the response. It was another representation of a beautiful person.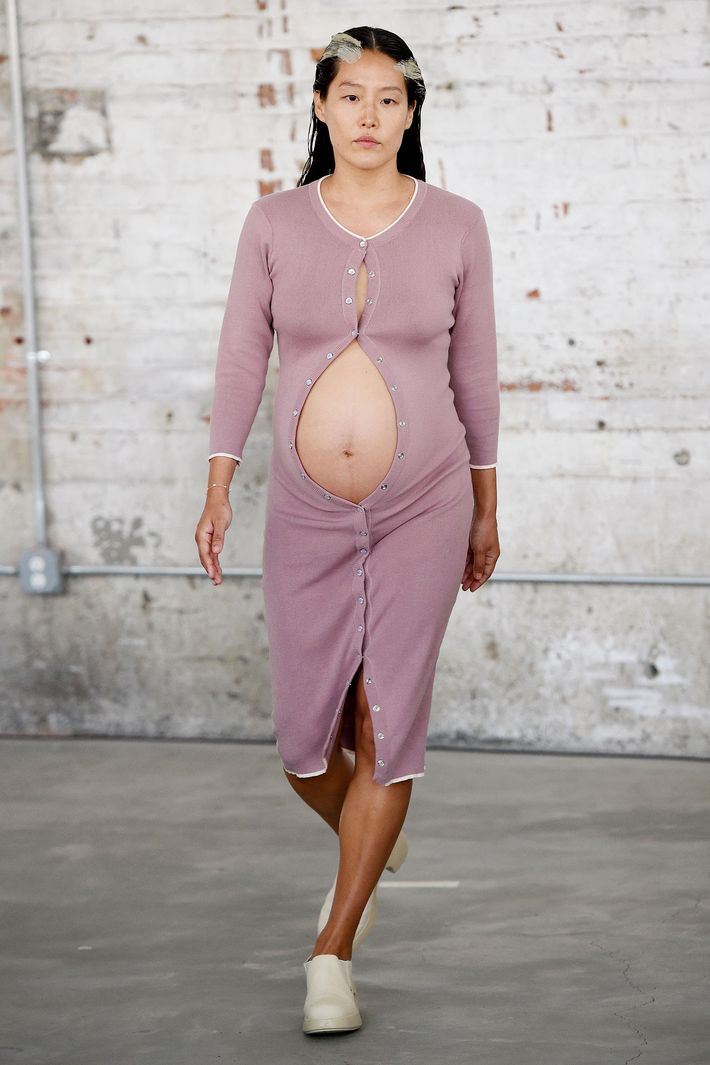 How do you make sure it's organic to you, and make sure it's not falling into the shtick of it?
ME: I don't think there's an answer for that necessarily. It's the same way we operate for all other decisions. We can feel when something doesn't feel right or is becoming a line. Or how it feels when it's like, This person is a joke.
Who is someone you would love to cast in your show?
ZL: We were just sparring over this. Winona Ryder.
ME: I don't think it's really her. I don't think it's a singular person. We haven't really thought about this.
ZL: Whenever we're shooting one shot of a model, it's difficult for us. We really like the way that people work together. Obviously we're capable of it, but it's a different process.
So there's not really one Eckhaus Latta person?
ME: Maybe May Hong, who won't be in the upcoming show. She's been in every show, and she has to be out of town for this one.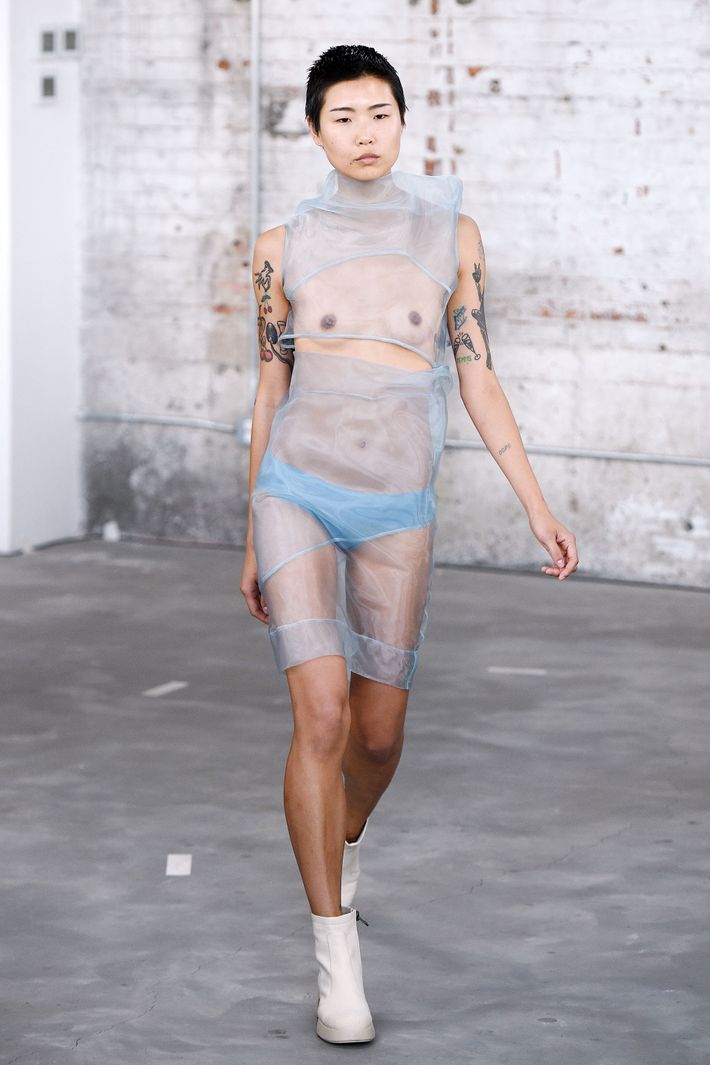 How do you approach making diverse casting important in 2018? Is that different from how it was in previous seasons or years?
ZL: For us, it's always been important. We're happy to see the industry change, or upset to see it not change. It just seems like a necessity. The point of casting is to represent a group of people that you'd want to see in your clothes. And it's crazy to us that you'd only see one kind of person.
ME: It's just saddening to think that we're in a space where the idea of diverse casting is still a constant question. Compared to how global we are in modes of communication and media sharing, the idea of diversity not being the norm is kind of disheartening at this point in time. How can you put an idea of a group of people and have it be the same representation of an identity? How could it not be a wider group? I think it's so important that is felt and pushed through.
This interview has been edited and condensed.